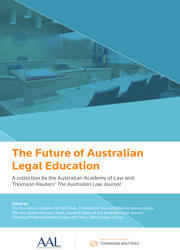 The Future of Australian Legal Education - Book & eBook
Book+eBook

Date: 06/07/2018

Code: 42521926

Lawbook Co., AUSTRALIA

The Future of Australian Legal Education - Book & eBook
Description
The Future of Australian Legal Education Conference was held in August 2017 to mark the 10th anniversary of the Australian Academy of Law (AAL), the 90th anniversary of the Australian Law Journal (ALJ) and the 30th anniversary of the Pearce Report on Australian Law Schools. The conference provided a forum for an informed, national discussion on the future of legal study and practice in Australia, covering practitioners, academics, judges and students. This volume contains papers presented by Australia's leading legal education experts and high ranking judicial members and addresses topics such as:
the impact of digital technology on teaching, learning and legal practice
what makes a "good" lawyer
what are the purposes and goals of legal education
current pedagogy and its outcomes
enhancing access to, and Indigenous engagement in, legal education
experiential learning
the interaction of law across disciplines and international borders.
This collection represents an invaluable contribution to the continuing discussion around legal education in Australia.
Table of Contents
Preface by Kevin Lindgren and François Kunc
About the Contributors
Introduction and Overview by Michael Coper
PART I: KEYNOTE ADDRESS
1. Why Lawyers Need a Broad Social Education
Martha C. Nussbaum
PART II: THE HISTORICAL CONTEXT AND REGULATORY
FRAMEWORK
2. The Past Is a Different Country
Dennis Pearce
3. The Bowen Report: The Overlooked Influence on Australian Legal Education
David Barker
4. Regulating Admissions: Are We There Yet?
Sandford D. Clark
5. Reflections on Approaches to Drafting Regulatory Standards:Finding Ways to Quicken, Not Deaden, the Spirit of Legal Education
Alex Steel
6. The CALD Standards for Australian Law Schools: Much More than Course Content
Michael Black
7. The Australian Legal Education Sector: Key Metrics
Neville Carter
8. The Future of Australian Legal Education: A Comparative View
John Farrar
PART III: THE "GOOD" LAWYER
9. Reaching Your Verdict: A Vocational Guide to Whether or Not to Study Law
Christian Duperouzel
10. Identifying Students' Drive as a Compass to Being a Good Lawyer
Andrew Henderson
11. Good Mental Health as a Component of the Good Lawyer
Alan Cameron
12. Preparing for the Business of Law, Not the Practice of Law
Kirsty McPhee
PART IV: BREADTH, SKILLS AND CRITICAL THINKING
13. Why Prescriptive Legal Education Demands Critical Perspectives
Simon Rice
14. Business, Law and Regulation: A Model for Developing Critical Thinking Skills in Future Law Graduates
Christina Do and Nicole Wilson-Rogers
15. The Case for Change: Keeping One's Own Counsel
Nicholas Hasluck
16. Clinical Legal Experience and the Benefits of Practical Training: Student Perspectives
Svetlana German and Robert Pelletier
PART V: THE CURRICULUM
17. Teaching Statutory Interpretation
John Basten
18. Statutory Interpretation and Legal Ethics: Once and Done or Taught Throughout the Curriculum?
Susan Carter
19. The Role of Legal History in Australian Legal Education
David Rolph
20. Embedding Indigenous Cultural Competence: A Case Study
Alison Gerard, Annette Gainsford and Kim Bailey
21. Can Australian Lawyers of the Future Afford Not to be Internationalist?
Justin Gleeson
PART VI: RESPONDING TO TECHNOLOGY
22. The Need for Lawyers
Lyria Bennett Moses
23. New Skills for New Lawyers: Responding to Technology and Practice Developments
Michael Legg
24. Keep Calm and Carry On: Why the Increasing Automation of Legal Services Should Deepen and Not Diminish Legal Education
Gabrielle Appleby, Sean Brennan and Andrew Lynch
25. Exploring the Use of Artificial Intelligence to Improve Law Students' Self- Assessments
Philippa Ryan
26. Flipping the Chalk and Talk with Law Students On and Off Line: The Advantages of Transformative Pedagogy Utilising Technology
Sarah Hiller
27. Equity, Diversity and Inclusion through Online Learning: Using a Massive Open Online Course (MOOC) to Facilitate Acquisition of Specialist Legal Knowledge
Jenny Buchan, Leela Cejnar and Shaun Katz
28. Fertile Octogenarians in Cyberspace: Why and How to Use Technology to Connect the Law School Classroom to Legal Practice
Cathy Sherry
29. Teaching Skills for Future Legal Professionals
Penny Crofts
PART VII: THE FUTURE
30. Four Perspectives on the Future of Australian Legal Education
Martha C. Nussbaum, Alan Robertson, Fiona McLeod and Dan Trevanion
31. Closing Thoughts
Michael Kirby

*
eBooks and packages including an eBook may not be returned once the software key has been supplied. Your rights as a customer to access and use the ProView™ software and a ProView eBook are subject to acceptance of the ProView content licence agreement.
NB
An email with a registration key and instructions for accessing your eBook will be sent after checkout. For existing ProView users the eBook will appear in your library after checkout.

Forthcoming/pre-order eBooks will be available after the publication date.

The ProView app is not currently available on Kindle. See the latest system requirements