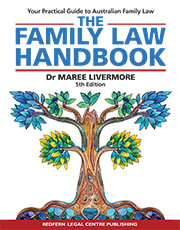 The Family Law Handbook 5th Edition
Book

$58.40* $146.00 RRP Save: $87.60 (60%)

Date: 13/03/2019

Code: 9780455242118

Lawbook Co., AUSTRALIA

The Family Law Handbook 5th Edition

Sale Price:

$58.40

Saving: $87.60
Description
The Family Law Handbook, 5th edition is a practical guide for people involved in or thinking about separation or divorce. Written in plain English, it explains the workings of the Australian system of family law and sets out the practical issues to be dealt with by a separating couple.
The Family Law Handbook addresses not only how the family law system works, but all aspects of separation and the making of workable parenting, property and financial arrangements for a successful post-separation life, including:
• what to do immediately after separation
• how to negotiate with your former partner
• how family dispute resolution works
• making the best possible arrangements for children
• how to achieve a fair property settlement
• what happens at court and what each party, with or without a lawyer, should do.
This book contains samples of parenting plan provisions, court orders, forms and affidavits that can be adapted for individual use, and a list of useful contacts and resources.
The Family Law Handbook, 5th edition addresses the introduction of same-sex marriage in Australia, features an updated, re-designed section on the popular consent order process, and provides new material for and about young people involved in family law disputes. It is a must-have for people experiencing separation and for anyone involved in a post-separation dispute. It is a most valuable reference, also, for workers in the field of family law – including family dispute resolution practitioners, educators, social workers, court staff, students and legal practitioners.
ABOUT THE AUTHOR
Dr Maree Livermore is well-known community family lawyer, policy consultant, writer, researcher and advocate for family law reform. She is interested in new models of community legal service provision, in collaborative cross-sectoral practice, in digital approaches to legal service provision, and in measurably improving access to justice.
Maree is founder and CEO of Tribe Family Lawyers, a new model of affordable, online legal service for everyday Australians. Her professional associations include the Marrickville Legal Centre, the Greater Sydney Family Law Pathways Network, ACT Legal Aid, HREOC, Blake Dawson Waldron, R L Whyburn & Associates, Dwyer Durack, Relationships Australia, and the Law and Justice Foundation of NSW. She has written regularly for the State Library of NSW and the Law Society of NSW.
Table of Contents
Chapter 1 – The Family Law System
Chapter 2 – Marriage, De Facto relationships, Separation and Divorce
Chapter 3 – Family Violence and Abuse
Chapter 4 – Negotiation, Agreement and Consent Orders
Chapter 5 – Court Process
Chapter 6 – Evidence
Chapter 7 – Parenting
Chapter 8 – Property
Chapter 9 - Hearings