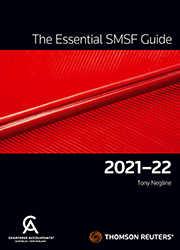 The Essential SMSF Guide 2021-22 Book + eBook
Book+eBook

New Release, 27/08/2021

Code: 42923959

Thomson Reuters, AUSTRALIA

The Essential SMSF Guide 2021-22 Book + eBook
Description
The Essential SMSF Guide 2021-22
Providing practical guidance on the ongoing operational and administrative issues of an SMSF, The Essential SMSF Guide 2021-22 covers the broad range of SMSF issues including the taxation implications of the investment rules, designing a pension and the payment of benefits.
To help readers understand the wider nature of SMSFs, the Guide covers related topics such as bankruptcy and the financial planning process for SMSF Trustees; and includes a practical toolkit containing over 90 documents and templates, including relevant ATO and ASIC documents.
Endorsed by Chartered Accountants Australia and New Zealand, The Essential SMSF Guide 2021-22 is a must have, guide for a comprehensive, yet highly practical insight into the workings and compliance requirements surrounding SMSFs.
The Guide has been specifically designed for trustees, financial planners, accountants, academics and students.
What's New for 2021-22
Impact of the superannuation changes in the 2022 and 2021 Federal Budgets
Commentary on latest Court and Administrative Tribunal cases including commentary on the Aussiegolfa case
Latest ATO rates and thresholds.
Features
Endorsed by the Institute
The toolkit contains relevant minutes, letters, plus a compilation of ATO documents (rulings, determinations, practice statements) in one easy-accessible source
Numerous examples and diagrams to help readers understand and apply the law
Written in a plain English and conversational manner
Readers can choose either book/eBook formats or subscribe to updates in the online format
Table of Contents
1. The historical development of superannuation
2. Comparing superannuation to other investments
3. Regulatory context of superannuation
4. Income tax and superannuation
5. What is an SMSF?
6. SMSF Trust deeds
7. Trustees' duties, powers and rights
8. Disputes with and changing trustees
9. Steps to set up an SMSF
10. The superannuation contribution rules
11. Employer contributions to SMSFs
12. Personal contributions to SMSFs
13. Rollovers and ETPs
14. Taxations of contributions
15. Review of superannuation investment rules
16. Investment strategies and sole purpose test
17. Implications of the in-house assets test
18. Related party transactions
19. Loans, business and SMSFs
20. SMSFs and real property
21. SMSFs, artwork and collectibles
22. Using SMSF reserves
23. Taxation of SMSF income
24. Preserved benefits
25. Payment and taxation of superannuation benefits
26. SMSFs and death
27. Terminal illness, disability and medical traumas
28. SMSFs and business succession
29. SMSFs and bankruptcy
30. Accounting issues and fund records
31. Auditing requirements and annual returns
32. Member statements
33. Disclosure requirements and information
34. Transgressions and penalties
35. SMSFs and GST
36. SMSFs and stamp duty
37. SMSFs and CGT small business concessions
38. The financial planning process
39. Centrelink benefits
40. Designing a pension
41. Payment of a pension
42. Winding up an SMSF
43. Pending and proposed measures
*
eBooks and packages including an eBook may not be returned once the software key has been supplied. Your rights as a customer to access and use the ProView™ software and a ProView eBook are subject to acceptance of the ProView content licence agreement.
NB
An email with a registration key and instructions for accessing your eBook will be sent after checkout. For existing ProView users the eBook will appear in your library after checkout.

Forthcoming/pre-order eBooks will be available after the publication date.

The ProView app is not currently available on Kindle. See the latest system requirements