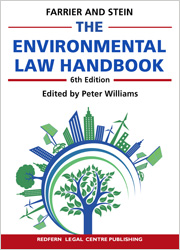 The Environmental Law Handbook - Planning and Land Use in New South Wales 6th edition ebook
eBook - ProView

Date: 11/12/2015

Code: 9780455236124

Thomson Reuters, AUSTRALIA

The Environmental Law Handbook - Planning and Land Use in New South Wales 6th edition ebook
Description
Environmental law is a dynamic area where active parliaments and courts generate a complex and interconnected web of legislation and regulations. Particular challenges arise from government attempts to balance environmental issues and developmental imperatives. The Environmental Law Handbook, now in its sixth edition, clarifies the complexity of this law for a wide range of readers.
Building on previous editions under the editorship of Professor David Farrier and the Hon Paul Stein QC AM, our new editor, Dr Peter Williams from the Faculty of the Built Environment, UNSW, has overseen contributions from over 20 experts in environmental law including barristers, solicitors, academics and policy makers. These experts have worked through complex legislation and regulation to offer a clear account of environmental planning and protection in NSW.
A handbook for practising lawyers and for students, the careful balance of clarification and detail makes the text widely useful. Planners, engineers and environmental scientists, as well as those involved in environmental or community causes, will find The Environmental Law Handbook a valuable resource.
Features
• New chapter on climate change and energy.
• Extensive revision of pollution law with inclusion of significant new and updated material following a range of statutory amendments and new case law.
• Extensively revised discussion on forestry and plantations, agriculture, water supply and catchment management regimes.
• Major rework of treatment of land use planning, development and biodiversity.
• Thorough updating for judicial interpretation and legislative change.

Table of Contents
Chapter 1 – The Structure and Scope of Environmental Law
Chapter 2 – Building Blocks of Environmental Law
Chapter 3 – Land Use Planning
Chapter 4 – Crown Land and Protected Areas
Chapter 5 – Development
Chapter 6 – New South Wales Environmental Assessment
Chapter 7 – Commonwealth Environmental Assessment and Approval
Chapter 8 – Local Government
Chapter 9 – Pollution Control and Waste Disposal
Chapter 10 – Climate Change and Energy
Chapter 11 – Agriculture
Chapter 12 – Biodiversity
Chapter 13 – Forests law
Chapter 14 – Coastal and Riverside Land
Chapter 15 – Water Supply
Chapter 16 – Catchment Management
Chapter 17 – Heritage Conservation
Chapter 18 – Mining
Chapter 19 – Fisheries and Aquatic Ecosystems
Chapter 20 – Aboriginal land and heritage in NSW

*
eBooks and packages including an eBook may not be returned once the software key has been supplied. Your rights as a customer to access and use the ProView™ software and a ProView eBook are subject to acceptance of the ProView content licence agreement.
NB
An email with a registration key and instructions for accessing your eBook will be sent after checkout. For existing ProView users the eBook will appear in your library after checkout.

Forthcoming/pre-order eBooks will be available after the publication date.

The ProView app is not currently available on Kindle. See the latest system requirements