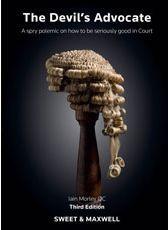 The Devil's Advocate 3rd Edition
Book

Date: 23/01/2015

Code: 9780414023222

Sweet & Maxwell, UNITED KINGDOM

The Devil's Advocate 3rd Edition
Description
The Devil's Advocate, a best-selling advocacy manual in both the UK and the Commonwealth, brings a fresh approach to the Do's and Don'ts of good advocacy. Written with humour and style, the title explains clear techniques, taking the reader through the practical application of advocacy step-by-step.
The Devil's Advocate has quickly become the leading handbook and practical guide to advocacy in any adversarial courtroom, in any country, to be read and carried about by any advocate.
Iain Morley QC is twenty years call in well-known London criminal chambers, prosecuting and defending in the Crown Courts, including many high-profile serious crime cases. He has taught advocacy skills pro bono to the Inner Temple juniors, written much of the teaching materials, and taught the teachers – including Silks and Judges.
• Presents the leading book on advocacy, bridging the gap between reading about advocacy and how you actually do it
• Written in a no-nonsense and engaging style to bring a fresh approach to studying advocacy
• Explains the art of persuasiveness, how to make convincing speeches, and effective cross examination
• Describes well-established techniques and exercises used in court for constantly improving questioning and witness control
• Offers punchy advice and insightful comments on all of the necessary skills and processes involved in advocating
• Uses examples throughout to illustrate key points and aids knowledge retention
• Includes a new chapter on the International Criminal Tribunals which require an additional set of advocacy skills due to the dynamics thrown up, such as the need for simultaneous translations
Table of Contents
Chapter 1 This Book 1
Chapter 2 Learning Advocacy 8
Chapter 3 Truth 16
Chapter 4 Winning 23
Chapter 5 Tribunal Psychology 41
Chapter 6 Persuasiveness 58
Chapter 7 Case Preparation 114
Chapter 8 Addressing the Judge 142
Chapter 9 Legal Writing 157
Chapter 10 Document management 169
Chapter 11 The Opening Speech 174
Chapter 12 Witnesses 193
Chapter 13 Questions 202
Chapter 14 Examination in Chief (sometimes called
"Direct- Examination") 212
Chapter 15 Cross- Examination 229
4565.indd xix 08/12/14 6:12 PM
xx Contents
Chapter 16 Re- examination 283
Chapter 17 Improving Questioning 289
Chapter 18 Experts 298
Chapter 19 Vulnerable witness 309
Chapter 20 The Closing Speech 323
Chapter 21 Bail & Mitigation 363
Chapter 22 The Court of Appeal 375
Chapter 23 Advocacy in International Criminal
Tribunals 378
Chapter 24 Improving Advocacy 409
Chapter 25 On being led as Junior Counsel
(sometimes called "Co- Counsel") 426
Chapter 26 Bar Ethos 434
Chapter 27 The overall Advocate