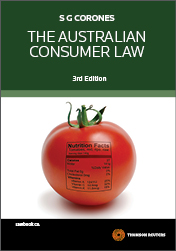 The Australian Consumer Law 3rd ed
eBook - ProView

$62.80* $156.99* RRP Save: $94.19 (60%)

Date: 12/05/2016

Code: 9780455237459

Lawbook Co., AUSTRALIA

The Australian Consumer Law 3rd ed

Sale Price:

$62.80

Saving: $94.19
Description
Stephen Corones in The Australian Consumer Law, explains in a detailed yet accessible treatment the substantive rights and remedies of consumers, and the obligations of traders under the Australian Consumer Law (ACL).
The ACL commenced on 1 January 2011 and it has been a far reaching national reform. As a result of the ACL there is now one uniform consumer protection law that applies in all jurisdictions throughout Australia and across all sectors of the economy. This book explains the scope and importance of the statutory causes of action created by the ACL. It examines how the general and specific protections inter-relate, the scope for overlap, and why each provision is necessary to provide complete consumer protection.
Since the last edition over three years ago, The Australian Consumer Law third edition has been extensively reworked and updated to take account of the many changes in the law that have occurred during this time. The third edition includes commentary on new legislation, including the Treasury Legislation Amendment (Small Business and Unfair Contract Terms) Act 2015 (Cth) which will extend the general protection against unfair terms to contracts with small businesses. It also considers important appellate decisions, those of the High Court of Australia, in Google v ACCC, Forrest v ASIC, ACCC v TPG, Kakavas v Crown Melbourne, and Commonwealth v Director, Fair Work Building Industry Inspectorate; and appellate decisions of the Full Federal Court in ACCC v Lux Distributors, and Paciocco v Australia and New Zealand Banking Group, together with those of the leading State and Territory courts.
The Australian Consumer Law remains the key text on consumer law in Australia, suitable for students and practitioners alike.
Table of Contents
PART I: Introduction
Consumer Protection Policy and Overview of the ACL
Definition and Key Concepts
PART II: General Consumer Protections
Misleading or Deceptive Conduct
Unconscionable Conduct
Unfair Contract Terms
PART III: Specific Consumer Protections
Specific False or Misleading Representations
Specific Unfair Sales Techniques
Consumer Guarantees for Goods
Consumer Guarantees for Services
Consumer Agreements
PART IV: Product Liability and Safety Regulation
Product Recall, Safety Standards, Safety Bans and Notices
Liability of Manufacturers for Goods with Safety Defects
PART V: Enforcement and Remedies
Public Enforcement
Private Remedies
Remedies Relating to Guarantees
*
eBooks and packages including an eBook may not be returned once the software key has been supplied. Your rights as a customer to access and use the ProView™ software and a ProView eBook are subject to acceptance of the ProView content licence agreement.
NB
An email with a registration key and instructions for accessing your eBook will be sent after checkout. For existing ProView users the eBook will appear in your library after checkout.

Forthcoming/pre-order eBooks will be available after the publication date.

The ProView app is not currently available on Kindle. See the latest system requirements