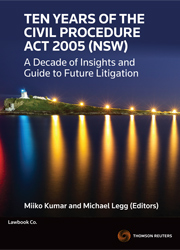 Ten Years of the Civil Procedure Act 2005 (NSW) - Book
Book

Date: 09/10/2015

Code: 9780455236858

Lawbook Co., AUSTRALIA

Ten Years of the Civil Procedure Act 2005 (NSW) - Book
Description
Initially, the enactment of the Civil Procedure Act 2005 (NSW) together with the Uniform Civil Procedure Rules 2005 (NSW) had the modest goal to streamline and simplify procedures across all levels of the civil justice system. However, the new Act embraced the Supreme Court's adoption of case management and elevated its significance through the mandatory legislative requirement that the court must seek to facilitate the just, quick and cheap resolution of the real issues in the proceedings. This central objective galvanised support for numerous procedural changes including those affecting discovery and expert evidence.
This text is based on the conference held in the Banco Court of the Supreme Court of New South Wales to celebrate the tenth anniversary of the Civil Procedure Act 2005. The conference examined the changes the legislation had wrought and considered what future reforms may be needed. The speakers at the conference and contributors to this text are eminent and experienced judges, practitioners and academics, including the Chief Justice of New South Wales TF Bathurst AC, Justice of Appeal John Basten, Chief Judge in Equity Patricia Bergin, Acting Justice of Appeal Ronald Sackville AO and Justice Geoff Lindsay.
The topics covered in the text include:
Case management
The overriding purpose
Proportionality
Expense Reduction Analysts Group Pty Ltd v Armstrong Strategic Management and Marketing Pty Ltd (2013) 250 CLR 303
Expectations of legal practitioners
The experience in England and Wales after the Jackson reforms
Supreme Court Practice Note SC Eq 11 Disclosure in the Equity Division
Discovery reforms based on a comparative study of other jurisdictions
Concurrent expert evidence, also known as 'hot-tubbing'
Costs
Alternative dispute resolution and pre-litigation requirements
Representative proceedings, also known as class actions
Freezing/Mareva orders
The need for quantitative research to allow for the evaluation of reforms.
Table of Contents
The Civil Procedure Act 2005 (NSW): Achievements and Challenges
After the Civil Procedure Act
The Civil Procedures Regime in New South Wales – A View from 2005
The first fifteen years of the English Civil Procedure Rules – Little to Boast About
Civil Procedure Act 2005 (NSW) – The Overriding Purpose Provisions
The High Court of Australia and Expense Reduction –Achieving Civil Procedure Reform in Practice
The Civil Procedure Act and the New Regime for Discovery
Discovery – A Comparative Approach to Reform
Expert Evidence Since makita - Problems with Concurrent Expert Evidence
Opinions About Expert Evidence under the Civil Procedure Act 2005 (NSW)
Representative Proceedings in New South Wales
Freezing orders in New South Wales
Reforming Civil Procedure and Alternative Dispute Resolution
Civil Justice Reform: The Third Phase
Civil Procedure, Politics and the Process of Reform