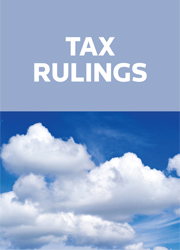 Tax Rulings (WLAU)
Online

Date: 12/03/2012

Code: 41248427

Thomson Reuters, AUSTRALIA

Enquiry Sent

A member of our support team will be in touch with you within 1 business day.

Sales Enquiry Form

Tax Rulings (WLAU)

For questions about how to use this product or to get help with your account please visit the Help Centre or Contact Support directly.
Description
ATO Rulings contains a comprehensive collection of tax rulings, determinations and related guidelines to aid in understanding the ATO's position on tax issues. This publication also includes additional reference materials, such as Practice Statements and ATO Alerts. The latest status of rulings, determinations and their drafts is indicated throughout the text.
Each ruling contains a detailed summary written by informed Thomson Reuters tax writers, highlighting the main points to ensure you understand the essential facts of each ruling before reading the entire text of the ATO ruling.
In addition, customers also receive the Latest Tax Rulings service, which provides the most up-to-date text of tax rulings and determinations (including drafts and GST rulings) as they are released.

Contents:
Income tax rulings;
TLIP addenda incorporated into the relevant rulings;
Taxation rulings and determinations;
Draft taxation rulings and determinations;
Product rulings;
Superannuation contributions rulings and determinations;
Superannuation guarantee rulings and determinations;
R&D guidelines, additional relevant guidelines;
Prescribed payments system and PAYE;
FOI commentary.
Latest Tax Rulings is updated weekly.