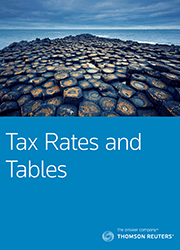 Tax Rates & Tables (WestlawAU)
Online

Date:

Code: 41167616

Thomson Reuters, AUSTRALIA

Enquiry Sent

A member of our support team will be in touch with you within 1 business day.

Sales Enquiry Form

Tax Rates & Tables (WestlawAU)

For questions about how to use this product or to get help with your account please visit the Help Centre or Contact Support directly.
Description
A reference guide that combines comprehensive coverage of Australian tax rates, Tax Rates & Tables offers a wealth of practical information and tools. Focused on both tax returns and tax planning, it includes rates for both the previous and upcoming financial years, where available.
The clear, succinct and easy-to-use rates and tables are logically organised in subject groups. Concise explanations and commentary of developments through the year are provided.

Tax Rates & Tables improves your productivity by ensuring:
You can quickly calculate rebates
Key tax data for tax return preparation is easy-to-use and quick to find
Rates are correctly used and applied
You can quickly locate specific tax rates
You have the latest rates and tables when you need them most
Your understanding is enhanced with commentary, tips and notes
You can stay up to date with the changes and how these impact your calculations
Table of Contents
• Individuals
• Entities
• CGT, FBT withholding tax
• Superannuation and retirement
• Miscellaneous items
• Assessments and objections
• Stamp duty
• Payroll tax
• Land tax
• GST
• Social Security
• Excise duty
• Effective life schedules
• Tax payable ready reckoner 2015-16
• Tax payable ready reckoner 2016-17
• Addresses and telephones
• Internet contact guide
• Federal Budget