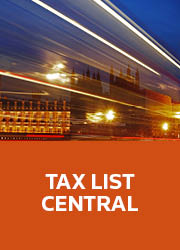 Tax List Central (WestlawAU)
Online

Date: 01/12/2013

Code: 41559065

Thomson Reuters, AUSTRALIA

Enquiry Sent

A member of our support team will be in touch with you within 1 business day.

Sales Enquiry Form

Tax List Central (WestlawAU)

For questions about how to use this product or to get help with your account please visit the Help Centre or Contact Support directly.
Description
Tax Changes Watchlist (previously names Tax List Central) is an online-only service that tracks all proposed tax measures, from the first announcement until finalisation. This allows you to quickly locate the status of each measure by providing a detailed listing of the proposal from when it was first announced or canvassed, incorporating all developments, up to the current day.
The uncertainty surrounding various tax measures can be confusing for you and your clients as you both wait to hear what becomes of these measures and what their current status is. Tax Changes Watchlist informs you of the history of various announcements and of any changes so that you can assess the potential impact on your client, and also limits the confusion that may come with following numerous announcements at the same time.
Tax Changes Watchlist identifies announcements either by category or the year the announcement was first made. The simple layout ensures that you can locate the announcement you require and track the events so that you are able to quickly identify its current status.
The listing is integrated with Thomson Reuters' comprehensive weekly tax news service, the Weekly Tax Bulletin. A link in the table takes the reader where the new development is detailed in WTB, which gives a thorough account of the development as it was reported at the time.