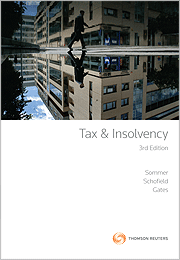 Tax & Insolvency (WLAU)
Online

Date:

Code: 41167558

Thomson Reuters, AUSTRALIA

Enquiry Sent

A member of our support team will be in touch with you within 1 business day.

Sales Enquiry Form

Tax & Insolvency (WLAU)

For questions about how to use this product or to get help with your account please visit the Help Centre or Contact Support directly.
Description
2011 edition out now.
Tax & Insolvency helps tax and legal professionals become informed of the issues in the areas of tax and insolvency, so that they can advise company officers when the company is either restructuring, insolvent or under some form of administration. It provides practical solutions for many of these situations. The concise format and clear writing style ensures that it is a useful and helpful guide in these complex areas.

Tax & Insolvency is a vital work for professionals to ensure that they are fully informed and able to offer practical solutions to their clients, in a range of tax and legal issues that arise upon a company becoming insolvent.
Authors
Andrew Sommer is a partner of the national law firm, Clayton Utz, Lawyers, Sydney. He has expert knowledge in the area of indirect taxation and specialises in the legal issues surrounding the operation of GST.

Robyn Schofield is a partner of the national law firm, Clayton Utz, Lawyers, Sydney. She specialises in a range of tax-related matters for corporations.

Stephen Gates was partner of the national law firm, Clayton Utz, Lawyers, Sydney and was the original author of this work. His valuable contribution to the 1st and 2nd editions of Tax & Insolvency are gratefully acknowledged.

Features
Clear explantions of taxation issues and tips about pitfalls in the area
Practical solutions for the difficult situations that arise under administration, liquidation or receivership of a company.
Developing attitudes of the courts and regulatory bodies are canvassed as well as references to leading legislation and administrative rulings
Table of Contents
Tax-related liabilities
Estimates and recovery of PAYG withholding liabilities
Collection of tax from third parties
Recovery action by the Commissioner
Tax status under insolvency administrators
Tax obligations of external administrators
Personal liabilities of company officers and managers
Share capital restructuring
Share disposals and distributions on liquidation
Transactions involving debts
Debt reconstructions
Carry forward of deductions for losses and bad debts
Assets and CGT issues
GST and insolvency
*
Price is for an annual subscription and includes all updates issued during the 12 month period for one user. Thereafter, subscription renewal invoices will be automatically issued. Subscribers must provide the publisher with written notice of cancellation within 30 days of the date of their subscription invoice; otherwise the subscriber will be liable for the invoiced amount. Please contact your Account Manager or call Thomson Reuters Customer Support on 1800 074 333 for pricing information regarding multiple users.