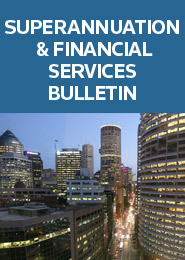 Superannuation & Financial Services Bulletin Online
Online

Date: 28/10/2010

Code: 41374287

Thomson Reuters, AUSTRALIA

Enquiry Sent

A member of our support team will be in touch with you within 1 business day.

Sales Enquiry Form

Superannuation & Financial Services Bulletin Online

For questions about how to use this product or to get help with your account please visit the Help Centre or Contact Support directly.
Description
Superannuation and Financial Services Bulletin is a comprehensive and informative superannuation and financial services news service, covering all relevant developments, from cases, new legislation, rulings, ASIC announcements ATO/APRA developments, SMSF news, FoFA developments and financial services regulation generally and major announcements to detailed practitioner articles. Special coverage is given to newly introduced legislation with contributions from business-focused experts. It is also available as part of Australian Superannuation Practice.
Each month, Superannuation and Financial Services Bulletin brings together the developments from numerous outlets impacting on the industry, presented in an easy-to-read summary format and identifying source materials for follow-up research.
Benefits
Stay abreast of recent industry developments and their impact on your client situations
Better advise your clients and help them plan for the future
Fast track your understanding of legislative changes and identify the most relevant changes for you
Stay abreast of changes in the law well in advance so you are not caught out
Enhance your understanding of abstract concepts and how they apply to real world situations
Gain a broader understanding of the finance industry and how developments fit into the bigger picture.
_________________________________________________________________________________
Need to create legal documents?
Cleardocs is an additional service that Thomson Reuters provides for creating legal documents. Completely online and simple to follow, Cleardocs enables you to create automated SMSF documents which are available within minutes. Choose from the selection below:
Features
Monthly Bulletin including news, practitioner articles and government announcements.
Details of the latest legislative changes and pending legislation with commentary from leading practitioners.
News items from the ATO, APRA & ASIC and further FSR reforms.
Case summaries and appeals information.
Summaries of Rulings and Determinations with articles from leading practitioners.
Social Security information and other relevant topics featured.