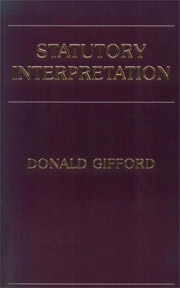 Statutory Interpretation - PDF
PDF

Date: 15/09/1990

Code: 30117000

Thomson Reuters, AUSTRALIA

Statutory Interpretation - PDF
Description
Statutory interpretation is a more difficult area to master than might at first sight appear. Despite the vast number of authorities dealing with one aspect or another of the field and the numerous statements and repeated application of the major rules of statutory interpretation, a knowledge of those rules is not in itself sufficient to guide the lawyer in the interpretation of a statute. This book is a classic in the area and provides a clear and lucid account of the area

Statutory Interpretation by Dr Donald Gifford, brings together the various strands of statutory interpretation and provides an invaluable overview of a subject which is normally touched on by the courts only as an incident to deciding the particular cases currently before them.

Originally published in 1990 the text is available again as a high quality PDF. The book's discussion and analysis is still very much relevant today and an invaluable reference to students and practitioners who need a concise and insightful coverage of the increasing important legal discipline.

* By downloading this PDF file you agree to the following: 1. That the file is for your sole use and purpose; 2. You may print this file but only if it is for your personal use; 3. You will not share or make copies of the PDF and will not permit the file to be published or distributed in any other way which is contrary to personal use. You should note that this material is copyright protected. Please contact us if you would like permission to reproduce this content.