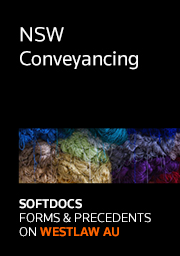 Softdocs Online NSW Conveyancing
Online

Date: 10/06/2015

Code: 41854001

Softdocs, AUSTRALIA

Enquiry Sent

A member of our support team will be in touch with you within 1 business day.

Sales Enquiry Form

Softdocs Online NSW Conveyancing

For questions about how to use this product or to get help with your account please visit the Help Centre or Contact Support directly.
Description
NSW Conveyancing Suite consists of an extensive range of Vendor and purchaser letters, a settlement calculator as well as relevant conveyancing and LPI forms.
*
This is an annual subscription on Westlaw AU.