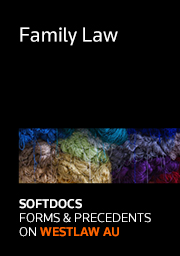 Softdocs Online - Family Law
Online

Date: 10/06/2015

Code: 41853992

Softdocs, AUSTRALIA

Enquiry Sent

A member of our support team will be in touch with you within 1 business day.

Sales Enquiry Form

Softdocs Online - Family Law

For questions about how to use this product or to get help with your account please visit the Help Centre or Contact Support directly.
Description
Softdocs provides a comprehensive set of standard legal forms and precedents, sourced from our client partners and relevant jurisdictional resources.
TressCox Lawyers developed the Family Law Binding Financial Agreements as part of Legal Precedents NSW, which are reproduced within this suite. TressCox continues to maintain and update these documents.
Features
When your professional reputation is built on your knowledge and expertise, why is so much of your time spent on document production?
• Receive fast updates to any court form or legislative change
• Produce court forms with accuracy and precision
• Select from a comprehensive range of customisable standard letters
• Feel confident delegating your document production to less experienced staff
• Enter your firm details only once
*
This is an annual subscription on Westlaw AU.