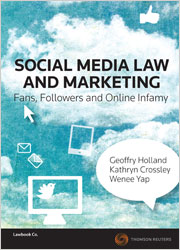 Social Media Law and Marketing book + ebook
Book+eBook

Date: 15/11/2013

Code: 41507403

Thomson Reuters, AUSTRALIA

Social Media Law and Marketing book + ebook
Description
We live in the age of social media. For many businesses, platforms like Facebook and Twitter have strengthened customer loyalty and opened the door to lucrative new markets. But as the first social media law cases come before the courts, we're confronted by uncomfortable questions about what we can and cannot do in this brave new social world.
This is Australia's first publication dedicated to social media law and marketing. It's a fuss-free, practical guide for businesses seeking to successfully establish an effective social media marketing strategy and avoid common legal pitfalls.
Included in this book:
How to grow a loyal social media following. including lots of practical examples of what has worked – and what hasn't
Key legal issues you're likely to encounter in social media, including defamation, IP infringement, terms of service issues, competition regulations, and privacy
Damage Control 101: learn how to deftly avert or manage PR disasters on social media
How to develop and implement a social media policy for your organisation
This is the only book you'll need to navigate the social media legal and marketing maze.
Table of Contents
1. Introduction
2. Getting Started: Choosing a Social Network and Putting Systems in Place
3. Developing a Social Media Policy
4. Building a Following: Think strategic, be unorthodox
5. Damage Control 101
6. Legal Pitfalls in Social Media
7. Monitoring, Managing and Measuring Results
8. The Changing Social Media Landscape, and Future-Proofing your Social Media Investment
*
eBooks and packages including an eBook may not be returned once the software key has been supplied. Your rights as a customer to access and use the ProView™ software and a ProView eBook are subject to acceptance of the ProView content licence agreement.
NB
An email with a registration key and instructions for accessing your eBook will be sent after checkout. For existing ProView users the eBook will appear in your library after checkout.

Forthcoming/pre-order eBooks will be available after the publication date.

The ProView app is not currently available on Kindle. See the latest system requirements