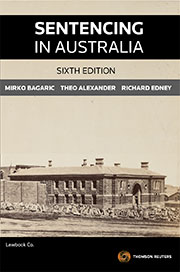 Sentencing in Australia Sixth Edition - Book
Book

Date: 24/10/2018

Code: 9780455501079

Lawbook Co., AUSTRALIA

Sentencing in Australia Sixth Edition - Book
Description
Sentencing in Australia Sixth Edition is the most up-to-date explanation available of sentencing law and practice across Australia. The Sixth Edition of this national work strengthens its position as the preferred treatment of the subject.
Sentencing matters consume most court of appeal work and this title provides a thorough, coherent and much-needed treatment of this complex subject, which involves a wide range of interacting factors.
The Sixth Edition evaluates the many and diverse developments in sentencing matters over the past year, including High Court and other superior court decisions, for example:
Diminished importance of current sentencing practice, preferring that the most important consideration in imposing a penalty is to impose a just penalty according to the law, assessing a variety of considerations among which no single one is determinative, including current sentencing practices (DPP (Vic) v Dalgliesh (Pseudonym) (2017)); and
Sentencing on the basis most favourable to the offender, when a jury finds an accused guilty of an offence which can be committed in a wide variety of ways (Chiro v The Queen (2017))
In terms of legislative changes, the Sixth Edition provides essential consideration of the Sentencing Act 2017 (SA)
On the basis of its currency, national scope and authoritative content, Sentencing in Australia Sixth Edition is the logical choice in each Australian jurisdiction, for practitioners and law students alike.
Table of Contents
1. Overview of sentencing law in Australia
2. Punishment and sentencing
3. Judicial reasoning in sentencing: instinctive synthesis, statutory and curial incursions
4. Sentencing hearings: procedural and evidential matters
5. Sentencing appeals
6. The principle of proportionality
7. The main sentencing objectives: general and specific deterrence, incapacitation and rehabilitation
8. Aggravating factors
9. Mitigating factors
10. Aboriginality
11. The nature of criminal sanctions
12. Imprisonment
13. Intermediate sanctions
14. Discharges and bonds, fines and disqualifications
15. Reform of sentencing law in Australia
16. Specific offences