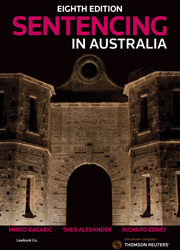 SENTENCING IN AUSTRALIA 8e Book+eBook
Book+eBook

New Release, 09/11/2020

Code: 42741369

Lawbook Co., AUSTRALIA

SENTENCING IN AUSTRALIA 8e Book+eBook
Description
Sentencing in Australia 8th Edition is the most up-to-date explanation available of sentencing law and practice across Australia. The Eighth edition of this national work strengthens its position as the preferred treatment of the subject.
Sentencing matters consume most court of appeal work and this title provides a thorough, coherent and much-needed treatment of this complex subject, which involves a wide range of interacting factors.
The Eighth edition evaluates the many and diverse developments in sentencing matters over the past year, including decision relating to:
the sentencing of children;
sentencing in a COVID-19 environment;
deportation and sentencing;
the sentencing of offenders from deprived backgrounds;
the expansion of aggravating and mitigating factors.
On the basis of its currency, national scope and authoritative content, Sentencing in Australia, Eighth Edition, is the logical choice in each Australian jurisdiction, for law students and practitioners alike.
Table of Contents
Chapter 1 - Overview of sentencing law in Australia
Chapter 2 - Punishment and sentencing
Chapter 3 - Judicial reasoning in sentencing: instinctive synthesis, statutory and curial incursions
Chapter 4 - Sentencing hearings: procedural and evidential matters
Chapter 5 - Sentencing appeals
Chapter 6 - The principle of proportionality
Chapter 7 - The main sentencing objectives: general and specific deterrence, incapacitation and rehabilitation
Chapter 8 - Aggravating factors
Chapter 9 - Mitigating factors
Chapter 10 - Aboriginality
Chapter 11 - The nature of criminal sanctions
Chapter 12 - Imprisonment
Chapter 13 - Intermediate sanctions
Chapter 14 - Discharges and bonds, fines and disqualifications
Chapter 15 - Reform of sentencing law in Australia
Chapter 16 - Specific offences
*
eBooks and packages including an eBook may not be returned once the software key has been supplied. Your rights as a customer to access and use the ProView™ software and a ProView eBook are subject to acceptance of the ProView content licence agreement.
NB
An email with a registration key and instructions for accessing your eBook will be sent after checkout. For existing ProView users the eBook will appear in your library after checkout.

Forthcoming/pre-order eBooks will be available after the publication date.

The ProView app is not currently available on Kindle. See the latest system requirements