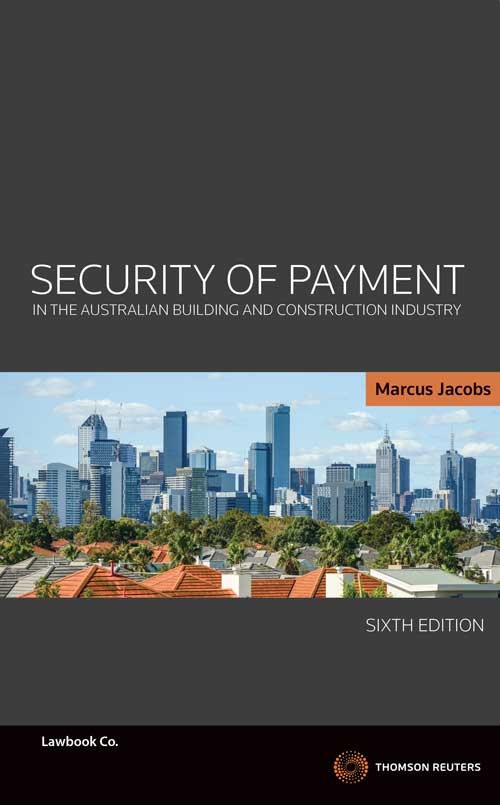 Security of Payment in the Australian Building and Construction Industry 6th Edition - Book & eBook
Book+eBook

Date: 16/12/2016

Code: 41967870

Lawbook Co., AUSTRALIA

Security of Payment in the Australian Building and Construction Industry 6th Edition - Book & eBook
Description
"The ... reason is the standing of the author. He is a senior specialist practitioner who has generously shared his knowledge and experience with the profession." - The Honourable Justice John R Sackar, Supreme Court of New South Wales, on the success of this title; from the Foreword to the Fifth Edition.
Security of Payment in the Australian Building and Construction Industry, Sixth Edition, provides expert analysis of the security of payment regimes across Australia and has been thoroughly revised and updated to capture case law and legislative developments since 2014.
Using the New South Wales Act as its cue, this book analyses the law around Australia and its detailed commentary captures the specialised insights of the late Marcus Jacobs QC in this, his final edition of the work.
The Sixthth Edition covers a range of critical developments, and is enhanced by additional resources provided to assist practitioners, including an updated Comparative Table of Provisions referencing the relevant security of payment legislation in each Australian jurisdiction.
Security of Payment in the Australian Building and Construction Industry Sixth Edition contains detailed, up-to-date coverage of the law, providing a highly portable reference for case law and legislation.
The material in this text has been extracted from the highly-regarded service, Commercial Arbitration Law and Practice, also available from Thomson Reuters Lawbook Co.
*
eBooks and packages including an eBook may not be returned once the software key has been supplied. Your rights as a customer to access and use the ProView™ software and a ProView eBook are subject to acceptance of the ProView content licence agreement.
NB
An email with a registration key and instructions for accessing your eBook will be sent after checkout. For existing ProView users the eBook will appear in your library after checkout.

Forthcoming/pre-order eBooks will be available after the publication date.

The ProView app is not currently available on Kindle. See the latest system requirements