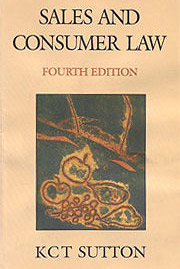 Sales & Consumer Law 4th Edition - PDF
PDF

Date: 01/09/1995

Code: 30112134

Thomson Reuters, AUSTRALIA

Sales & Consumer Law 4th Edition - PDF
Description
Sutton's Sales & Consumer Law last published in 1995 and sets out to examines the law and policy issues relating to the sale of goods in Australia and New Zealand. First published in 1967, this 4th edition continue to deal comprehensively not only with the law as to the sale of goods as contained in the Sale of Goods Acts of the various jurisdictions as interpreted by the courts, but also with the developments in consumer law that have occurred in Australia.

This work provides a valuable insight into the development in the sales of good and consumer protection.

Out of print since 1999, this classic title on consumer law is now available as a high quality PDF.
* By downloading this PDF file you agree to the following:
1. That the file is for your sole use and purpose;
2. You may print this file but only if it is for your personal use;
3. You will not share or make copies of the PDF and will not permit the file to be published or distributed in any other way which is contrary to personal use.
You should note that this material is copyright protected. Please contact us if you would like permission to reproduce this content.