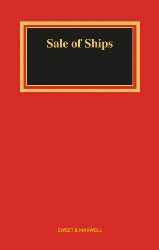 Sale of Ships: The Norwegian Saleform 3rd edition
Book

Date: 22/01/2016

Code: 9780414034136

Sweet & Maxwell, UNITED KINGDOM

Sale of Ships: The Norwegian Saleform 3rd edition
Description
Sale of Ships guides solicitors and barristers through the use of the Norwegian Saleform in the context of English contract law, covering legislation such as UCTA 1977 and the Sale of Goods Act. The 1993 Nipponsale form is also analysed in depth and in comparison with other saleforms.
The new edition features clause by clause guidance on each provision and it also includes appendix materials, international materials and pro forma list of delivery documents.
FEATURES
Precedents –Includes a range of precedents required for the sale of ships and related activities
Updates – The book deals with the prior iterations of the saleform (1987 and 1993), and now updates readers on the impact and application of the 2012 saleform which has superseded them.
Analysis – It offers clause-by-clause analysis and line-by-line explanation of the form, gathering the insight of two leading minds in the area.
For each provision, the authors explain the differences between the current and previous versions of the saleform as they relate to a specific issue (i.e. Payment, Inspections, Place of Delivery), as well as the relevant case law which affects the provision's operation.
Explanation – The clause-by-clause explanation, analysis and advice covers everything from purchase price, inspections and delivery to dry-docking, encumbrances and condition on delivery.
Analyses case law – It analyses recent major case law on the saleform, including decisions like Union Power and Griffon.
Other international forms – The book covers other forms of international importance, besides the Norwegian saleform, including the 1993 and 1999 Nipponsale forms, and now extends to the Singapore Ship Sale form.
Equitable remedy – Looks at different types of equitable remedy available, and the sellers' right to damages.
Freezing injunctions – Includes a chapter on the arrest of vessels, including freezing (Mareva) injunctions.
Specimen contract – Analyses resale of shipbuilding contracts, with a specimen contract provided.
Dispute resolution – Covers the sale of ships for recycling, including potential dispute resolution and issues surrounding the Sale of Goods Act.
Useful documents – Provides precedent delivery documents, closing documents, bill of sale, non-grounding letter, commercial invoice, invoice for bunkers & lubricating oils, non-blacklist letter, undertaking to delete, undertaking re. stowaways, protocol of delivery and acceptance.
Useful appendices – Gathers all the appendix materials necessary for ship sales in one place, including domestic materials (UCTA, Sale of Goods Act, Marine Insurance Act and more) and international convention like the International Convention on Arrest of Ship like the International Convention on Arrest of Ships.
Table of Contents
Chapter 1 Norwegian Saleform
Chapter 2(A) Application of General Contract Law
Chapter 2(B) Sale of Goods Act
Chapter 2(C) The Unfair Contract Terms Act 1977 ("UCTA")
Chapter 3 Overview of the Main Differences Between Saleform 1987 and Saleform 1993
Chapter 4 Preamble and Clause 1 – Purchase price
Chapter 5 Clause 2 – Deposit
Chapter 6 Clause 3—Payment
Chapter 7 Clause 4—Inspections
Chapter 8 Clause 5—Place and Time of Delivery
Chapter 9 Clause 6—Drydocking
Chapter 10 Clause 7—Spares/Bunkers etc
Chapter 11 Clause 8—Documentation
Chapter 12 Clause 9—Encumbrances
Chapter 13 Clause 10—Taxes, etc.
Chapter 14 Clause 11—condition on delivery
Chapter 15 Clause 12—name/markings
Chapter 16 Clause 13—buyers' default
Chapter 17 clause 14—sellers' default
Chapter 18 Clause 15 Saleform 1993—buyers' representatives—and Additional Clauses
Chapter 19 Clause 15 (Saleform 1987) and Clause 16 (Saleform 1993) arbitration
Chapter 20 Signature of Saleform Contracts
Chapter 21 Legal Position of Classification Societies
Chapter 22 Equitable Remedies
Chapter 23 Arrest of Vessels
Chapter 24 ReSALE OF SHIPBUILDING CONTRACTS
Chapter 25 sale of ships for recycling
Chapter 26 Nipponsale
Chapter 27 The Singapore Sale Form
Appendices