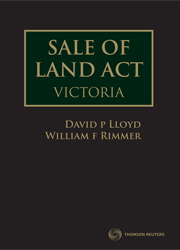 Sale of Land Act Victoria ebook
eBook - ProView

Date: 19/10/2015

Code: 9780455235691

Thomson Reuters, AUSTRALIA

Sale of Land Act Victoria ebook
Description
In his Foreword to Sale of Land Act Victoria, The Honourable Justice Clyde Croft says:
"…. it is of significant importance that counsel of such expertise and experience in property and commercial law as Mr Lloyd and Mr Rimmer have prepared this comprehensive treatment of the Sale of Land Act. The work provides a full and detailed annotation of the provisions of the Act by reference to both authority, conveyancing practice, commentary and standard or usual forms of contracts and other documents. This approach renders the operation and application of both particular provisions and the Act as a whole readily accessible.
"Mr Lloyd and Mr Rimmer are to be congratulated for their contribution of such an important work, a work which must be an essential reference and resource for courts and tribunals, counsel and solicitors practising in property and commercial law in Victoria."
For the first time in Victoria since the Sale of Land Act came into operation over 50 years ago in 1962, Sale of Land Act Victoria provides a comprehensive analysis of and commentary on all aspects of this significant piece of legislation, by barristers David Lloyd and William Rimmer.
Sale of Land Act Victoria is an invaluable guide to the Sale of Land Act, not only for legal practitioners involved in property transactions and disputes arising from such transactions, but also for other professionals engaged in the field of conveyancing, including real estate agents and conveyancers.
Sale of Land Act Victoria covers:
Sale and subdivision
Off-the-plan contracts
Arbitrators
Deposits
Terms contracts
Cooling off
Section 32 statements
Insurance
Public auctions
The work is current to 1 July 2015.
Resource Downloads
General Downloads
Product Reviews
*
eBooks and packages including an eBook may not be returned once the software key has been supplied. Your rights as a customer to access and use the ProView™ software and a ProView eBook are subject to acceptance of the ProView content licence agreement.
NB
An email with a registration key and instructions for accessing your eBook will be sent after checkout. For existing ProView users the eBook will appear in your library after checkout.

Forthcoming/pre-order eBooks will be available after the publication date.

The ProView app is not currently available on Kindle. See the latest system requirements