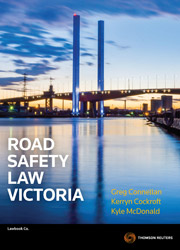 Road Safety Law Victoria - Book
Book

Date: 25/08/2015

Code: 9780455236537

Thomson Reuters, AUSTRALIA

Road Safety Law Victoria - Book
Description
Road Safety Law Victoria is an essential resource for legal practitioners and police, assisting those who have responsibility for prosecuting or defending road and traffic offences in Victoria. It contains the most relevant legislation extracted from the Criminal Law, Investigation and Procedure Victoria subscription service.
This comprehensive work provides annotations to the Road Safety Act 1986 and the Victorian Road Rules. The text of the relevant Road Safety Regulations is set out along with Ministerial Orders gazetted under the Road Safety Act 1986.
Expert commentary is provided by Magistrate Greg Connellan and co-authors Kerryn Cockroft and Kyle McDonald.
The work includes detailed commentary on licensing, offences involving alcohol or other drugs, speeding offences and impoundment, immobilisation and forfeiture of motor vehicles.
Whilst the history of Victorian road safety law represents an accumulation of legislative enactments over more than 60 years this work provides an accessible guide to what is now a comprehensive and cohesive system of road rules, offences, police investigative powers, and procedural and evidentiary rules. The aim of the work is to enable the user to access the relevant law in an efficient manner, successfully navigate the apparent complexities that arise and find the relevant cases.
Road Safety Law Victoria is an essential resource for anyone practising, enforcing or studying road and traffic offences in Victoria. The Road Safety Act 1986, Regulations and Road Rules are current to 1 July 2015 but incorporate amendments to the Road Safety Act 1986 scheduled to come into effect on 1 August 2015.
"[T]his volume enables any and every practitioner (at whatever level of experience) to prepare a case effectively and efficiently; and, when 'caught on the hop' by reason of the unexpected in the running of a case, to readily determine what evidence should be adduced, and what submission needs to be made ...
[T]he text is principally intended for police prosecutors and legal practitioners involved in road safety and traffic law in Victoria. The intention of the authors has been achieved because, as one looks at the bar tables in courtrooms in the Magistrates' Court and the County Court in Victoria, one sees many dog-eared copies (with protruding yellow tags) to hand" - Paul Holdenson QC, Criminal Law Journal Review.