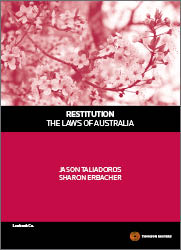 Restitution - The Laws of Australia 1e
Book

Date: 31/10/2014

Code: 9780455235424

Thomson Reuters, AUSTRALIA

Restitution - The Laws of Australia 1e
Description
The modern law of restitution is a common law doctrine derived from the law of quasi-contract, which aims to prevent or reverse unjust enrichment.
Restitution - The Laws of Australia offers a principles-based, practical guide to this complex and dynamic area of the law. As such, it is essential reading for practitioners and students alike.
The text provides easy to read and insightful commentary in topics including:
the history and basis of the law of restitution;
the elements of unjust enrichment;
mistake;
compulsion;
claims involving public authorities;
ineffective contracts;
restitution for wrongs (also known as "dependent claims in restitution");
defences; and
remedies.
This material is also published as Title 29 "Restitution" of The Laws of Australia legal encyclopaedia. As such it retains that work's easy-to-read style: each main paragraph opens with a bold proposition that encapsulates the relevant legal principle, while the text that follows sets out and analyses complexities, nuances and developments in the law. Extensive referencing makes The Laws of Australia the ideal starting point for research across any Australian jurisdiction.