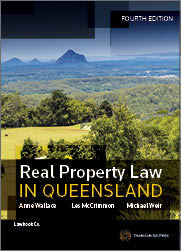 Real Property Law in Queensland 4th edition book + eBook
Book+eBook

Date: 15/12/2014

Code: 41703941

Lawbook Co., AUSTRALIA

Real Property Law in Queensland 4th edition book + eBook
Description
Real Property Law in Queensland 4th Edition has been revised and updated to deal with developments in real property case law and legislation since the last edition.
The most significant changes covered in this edition include amendments made to the Land Title Act 1994, particularly those arising from the enactment of the Electronic Conveyancing National Law (Queensland) Act 2013, which heralds the introduction of the national electronic conveyancing system in Queensland. Commentary has been updated on the fraud exception to indefeasibility and the substantial amendments made to the Body Corporate and Community Management Act 1997.
This edition also includes analysis of the latest native title law cases; discussion of the recovery of damages by a landlord in relation to leases; the impact of the High Court decision in Westfield Management Ltd v Perpetual Trustee Company Ltd on the interpretation of easements and other interests; and a review of the new concept of high-density development easements introduced through amendments to the Land Title Act 1994.
Researchers, students and practitioners alike will find this edition of Real Property Law in Queensland an essential reference work for issues relevant to real property law in Queensland.
Table of Contents
Development of Real Property Law in Queensland
Land Tenure in Australia
Native Title
Ownership of Land: Title and Rights
Land Law and Equity
Estates and Future Interests
Perpetuities and Accumulations
Co-ownership
An Introduction to the Torrens System
Operation of the Torrens System and the Concept of Indefeasibility
Unregistered Interests and Priorities under the Torrens System
Remedies under the Torrens System
Community Titles
Leases
Easements and Profits
Mortgages and Other Security Interests in Land
Covenants Affecting Freehold Land
*
eBooks and packages including an eBook may not be returned once the software key has been supplied. Your rights as a customer to access and use the ProView™ software and a ProView eBook are subject to acceptance of the ProView content licence agreement.
NB
An email with a registration key and instructions for accessing your eBook will be sent after checkout. For existing ProView users the eBook will appear in your library after checkout.

Forthcoming/pre-order eBooks will be available after the publication date.

The ProView app is not currently available on Kindle. See the latest system requirements