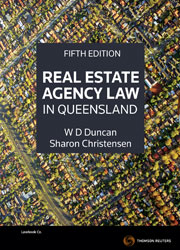 Real Estate Agency Law in Queensland Fifth Edition - Book
Book

Date: 12/07/2016

Code: 9780455237787

Lawbook Co., AUSTRALIA

Real Estate Agency Law in Queensland Fifth Edition - Book
Description
Queensland real estate agents operate in a rapidly evolving and increasingly regulated legal environment. Now in its fifth edition, Real Estate Agency Law in Queensland has been fully updated to take account of the latest legal developments

New to this edition:

Analysis of the Property Occupations Act 2014 and Agents Financial Administration Act 2014 as they impact upon real estate agency practice from 1 December 2014;
Extensive explanation of the new disclosure regimes under the amended Land Sales Act 1984 and the Body Corporate and Community Management Act 1997 in so far as they concern the obligations of real estate agents;
An introduction to the new regime established by amendments to the Foreign Acquisitions and Takeovers Act 1975 in so far as this legislation affects foreign sellers;
Detailed explanation of the current standard REIQ Contracts of Sale for Residential Land, Community Title including contracts for the sale of all types of commercial real estate;
Introduction to electronic conveyancing in Queensland;
A decade of updating of all other statutes affecting agency practice including the Residential Tenancies and Rooming Accommodation Act 2008 and amendments to the Retail Shop Leases Act 1994;
Updated relevant case law to date of publication.
This book captures all significant legal issue affecting agency practice, thus making it an essential resource for anyone involved with the real estate industry in Queensland.
Table of Contents
PART I THE LEGAL SYSTEM
1. Historical Background to Queensland Property Law and Legal System
2. Title to Land in Queensland
PART II CONTRACTS AND CONVEYANCING
3. Law of Contract - General Principles
4. The Standard Land Contract in Queensland - Explanation of Terms
5. Non-Standard Agreements for the Sale of Land
6. Non- Standard Conditions of Contract of Sale
7. The Conveyancing Process for the Real Estate Agency
PART III
8. Nature of Real Estate Agency
9. Duties of Real Estate Agency
10. Liabilities of Agents
11. The Agent as Auctioneer
PART IV
12. Right to Commission Expenses
PART V
13. Leases and Tenancies
14. The Business Contract
15. Other Interests in Land