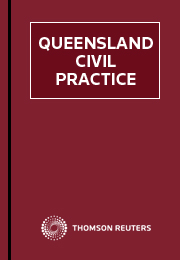 Queensland Civil Practice
Online

Date: 05/09/2001

Code: 41167464

Lawbook Co., AUSTRALIA

Enquiry Sent

A member of our support team will be in touch with you within 1 business day.

Sales Enquiry Form

Queensland Civil Practice

For questions about how to use this product or to get help with your account please visit the Help Centre or Contact Support directly.
Description
Queensland Civil Practice offers a detailed guide to court practice and procedure in Queensland under the regime of the Uniform Civil Procedure Rules. It has recently undergone a major overhaul and review to simplify the structure and improve ease of navigation through the service. The restructure has concentrated on the provision of value added material such as current commentary and annotated pertinent legislation. A new index relating solely to the UCPR has been prepared and published.
The distinguished author team is led by the General Editor, Justice David Thomas (President, Queensland Civil and Administrative Tribunal and Judge, Queensland Supreme Court) with leading practitioners and academics, including Prof Bernard Cairns, Dr Bridget Cullen, Dr John Forbes, Chris Tam, Justin Carter, Dan Morgan, Matthew Williams and Joelle Lenz.