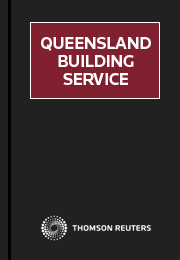 Queensland Building Service
Looseleaf

Date: 05/09/2012

Code: 30142163

Lawbook Co., AUSTRALIA

Enquiry Sent

A member of our support team will be in touch with you within 1 business day.

Sales Enquiry Form

Queensland Building Service

For questions about how to use this product or to get help with your account please visit the Help Centre or Contact Support directly.
Description
Queensland Building Service is a comprehensive resource on building law and regulation in Queensland. Containing links to National Construction Code (NCC) and expert commentary and analysis of the 2019 code, the service incorporates all additions and changes regarding building regulations, provisions and solutions. It is a must-have for subscribers in the building and construction industries, including builders, developers, surveyors, architects and lawyers, both in the private and public sectors.
Queensland Building Service includes full text of key legislation, incorporating the key regulatory instruments governing building work, contracts, security of payment and dispute resolution. The service provides extensive authored annotations explaining the meaning of each provision, as well as explanatory notes and second reading speeches for selected Acts.
Commentary and legislation is regularly updated by a prominent author team, who share their invaluable knowledge and experience in the service.
Queensland Building Service can be used in conjunction with other building related services available through Thomson Reuters, including National Building Service, Building Service NSW and Planning and Development Queensland.
Editorial Reviews

From: Building and Construction Law Journal - (2009) 25 BCL 154
Reviewed by lohn Dorter

"Current, comprehensive, and convenient"; this valuable service indeed is. It does live up to its claim of providing up-to-date law plus expert insight when and where you need it, both online and in three looseleaf volumes.
National uniformity has, unfortunately, been eroded in a number of construction areas,
particularly the application of the Building Code of Australia and the security of payment legislation.
Commendably, these three well-known authors cover the field in Queensland, where construction is, in truth, very active.
Now that security of payment claims are increasing so rapidly in Queensland, the annotations with relevant case law, including that from other States, are especially valuable.
Similarly, the formidable Queensland Building Services Authority is so significant in its reach that most practitioners will appreciate the material and annotations provided by the learned authors.

Although all three authors are well known in the industry, potential buyers may be somewhat confused about their respective contributions. Both the promotional material and the frontispiece represent the work as being by all three of them and in the order listed above. However, the individual volumes suggest otherwise. The reader is immediately given the representation that Mr Pyman is the author of only volume 3 and that Mr Macleman and Mr Anderson only are the authors of volumes I and 2. Perhaps the publisher could readily clarify this in both the promotional material and the frontispiece or preface.

Technically, the production is excellent and a pleasure to use.

*
Subscription price includes 12 months of updating releases. Further updates invoiced separately.