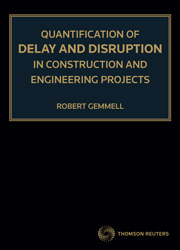 Quantification of Delay and Disruption in Construction and Engineering Projects - Book+ebook
Book+eBook

Date: 07/08/2017

Code: 42071928

Lawbook Co., AUSTRALIA

Quantification of Delay and Disruption in Construction and Engineering Projects - Book+ebook
Description
Delay and disruption are endemic in the construction industry and lead to time and cost overruns. It is therefore essential that delays and/or disruptions are identified early so that corrective action can be taken. However, when delay and/or disruption actually occurs, the issue of quantifying the period of any delay, the effects of disruption, and the quantification of the resulting loss during, and especially at the end, of a project is complicated.
This book is intended to be a practical guide to the quantification of loss caused by delay and disruption. It is relevant to construction professionals in Australia and internationally, and provides a review and analysis of:
The planning and programming of a construction project;
The primary methods of delay analysis; and
The methods to quantify financial loss caused by delay and by disruption.
"Here we have at last an Australian work of legal scholarship and authority written on the challenging subject: the quantification of delay and disruption on construction and engineering projects.
Robert Gemmell's text book is as comprehensive as it is valuable, providing as it does a practical guide to the critical exercise of quantification of the loss. The subject matter is not only written for application in Australia, but also internationally.": The Hon Justice Peter Vickery, a Judge of the Supreme Court of Victoria and Judge-in-charge of the Technology, Engineering and Construction List.
*
eBooks and packages including an eBook may not be returned once the software key has been supplied. Your rights as a customer to access and use the ProView™ software and a ProView eBook are subject to acceptance of the ProView content licence agreement.
NB
An email with a registration key and instructions for accessing your eBook will be sent after checkout. For existing ProView users the eBook will appear in your library after checkout.

Forthcoming/pre-order eBooks will be available after the publication date.

The ProView app is not currently available on Kindle. See the latest system requirements