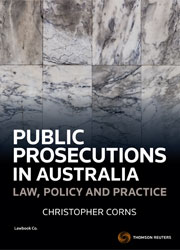 Public Prosecutions in Australia: Law, Policy and Practice - Book
Book

Date: 30/11/2013

Code: 9780455231822

Lawbook Co., AUSTRALIA

Public Prosecutions in Australia: Law, Policy and Practice - Book
Description
Public Prosecutions in Australia: Law, Policy and Practice is a unique book which explains and critiques the law and policy regulating the conduct of contemporary public prosecutions in Australia. The work takes a national approach by setting out the fundamental common law principles which apply to all public prosecutions, and explaining and comparing the law in each jurisdiction with respect to important topics such as prosecution disclosure obligations and prosecution appeal rights. It also explores key features of the national landscape of public prosecutions in Australia.
The main focus of the book is on the role, powers and responsibilities of the Director of Public Prosecutions (DPP), Crown prosecutors and the police - in addition to all federal, State and local regulatory agencies involved in the investigation and prosecution of regulatory offences. Of particular relevance are the various interrelationships between the office of the DPP and federal and State regulatory agencies, including the DPP providing advice to agencies during the course of criminal investigations, the use of immunities in cases of serious cartel offences, and the referral of cases by regulatory agencies to the DPP for prosecution. The working relationship between the police and the DPP is also examined.
The text incorporates recent legislative reforms which affect the work of prosecutors, notably:
tightening of statutory disclosure obligations,
increased responsibilities towards the victim of the crime,
the new criminal jurisdiction of the Federal Court of Australia,
the abolition of double jeopardy considerations on Crown appeals against sentence, and
the Jury Directions Act 2013 (Vic).
The material follows the key stages of criminal proceedings and explains the relevant critical prosecutorial decisions, the criteria involved and applicable prosecution policies and guidelines.
The book also considers public prosecutions from political perspectives (eg the power of the Attorney-General to give Directions to a DPP and to intervene in prosecution matters), historical perspectives (eg the role of the police as prosecutors and the emergence of the DPP model in Australia in the 1980s), and social perspectives (eg the influence of the crime victim movement on prosecutorial rights and obligations).
Public Prosecutions in Australia: Law, Policy and Practice will be invaluable for practitioners, students, and anyone with an interest in any aspect of public prosecutions in Australia.
Table of Contents
Contents
1. Introduction
2. Historical Background
3. The Australian Model in Context
4. Prosecutorial Roles
5. Prosecution Independence
6. The Decision Whether to Prosecute
7. Police and Prosecutions
8. Victims, Witnesses and the Prosecution
9. Prosecuting the Trial and the Sentencing Hearing
10. Prosecution Appeals
11. Regulatory Prosecutions: Federal Context
12. Regulatory Prosecutions: State and Territory Contexts, Powers and Duties
13. The DPP and the Coroner's Court
14. Accountability of Public Prosecutors and the Public Prosecution System
15. Organisational Accountability and Performance Measurement
16. The Attorney-General, Prosecutions and the DPP
17. Conclusions