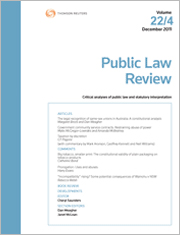 Public Law Review
Online

Date: 28/10/2008

Code: 41167458

Lawbook Co., AUSTRALIA

Enquiry Sent

A member of our support team will be in touch with you within 1 business day.

Sales Enquiry Form

Public Law Review

For questions about how to use this product or to get help with your account please visit the Help Centre or Contact Support directly.
Description
Critical Analyses of Public Law and Statutory Interpretation

Public Law Review is an influential and widely cited legal journal. The articles and commentary allow readers to stay on top of public law developments in Australasia and in other parts of the common law world. The subject of public law is broadly conceived, covering all aspects of law and government.

A feature of the Review is the commentary, recent developments and book review sections, bringing to public lawyers in government, private practice and the courts coverage of topical issues and legal literature.

Articles published are critically appraised or reviewed by an academic or professional peer of the author for the purpose of maintaining the high standards of the journal.

The Editors of the Review are Professor Cheryl Saunders (Director, Centre for Comparative Constitutional Studies, Melbourne Law School, University of Melbourne) and Professor Janet McLean (Associate Dean Research, Faculty of Law, University of Auckland). They are joined by Associate Professor Dan Meagher (School of Law, Deakin University) who is the Comments Editor.
Online, the Review features the full backset to Volume 1, 1990, with links to judgments, legislation and other online publications, while allowing for individual articles to be downloaded in pdf format or received via RSS feed.

There are approximately four Parts published each year.

Public Law Review received an A* ranking in 2010 as part of the Australian Research Council's "Excellence in Research for Australia (ERA)" initiative.

To access articles, or to submit an article and have your say, visit our Journals Talk site at www.thomsonreuters.com.au/journalstalk.