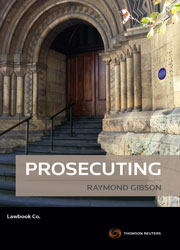 Prosecuting ebook
eBook - ProView

Date: 01/02/2017

Code: 9780455238173

Lawbook Co., AUSTRALIA
Description
"Prosecuting" is a practical manual for the barrister or solicitor on to how to prepare and conduct all aspects of a criminal trial whether by jury or judge alone. Authored by Raymond Gibson QC, a leading criminal lawyer and Senior Crown Prosecutor, this Manual is focused on the skills-based aspects of prosecuting a criminal trial,
"Prosecuting" provides:
Practical information required by criminal law practitioners, prosecuting bodies, police, legal aid and courts who are involved in the criminal trial process.
Delivers in one publication coverage of details of skills required to undertake a criminal prosecution in all Australian States and Territories
"Prosecuting" includes
Preparing your case
The charges
Conferences with witnesses
Types of Evidence
Opening
Evidence-in-chief & re-examination
Cross-examination
Unfavourable witnesses
The course of the trial
Accomplices
The final address
The police prosecutor in as summary hearing
Ethical duties of the prosecutor
Prosecuting and the sentencing process
Appendix 1 – Case study – Bates
Appendix 2 – The ten commandments of cross-examination by Irving Younger
Appendix 3 – Ten hints on a no-case submission by David Ross QC
Appendix 4 – Supreme Court of Victoria, Expert Witness Code
*
eBooks and packages including an eBook may not be returned once the software key has been supplied. Your rights as a customer to access and use the ProView™ software and a ProView eBook are subject to acceptance of the ProView content licence agreement.
NB
An email with a registration key and instructions for accessing your eBook will be sent after checkout. For existing ProView users the eBook will appear in your library after checkout.

Forthcoming/pre-order eBooks will be available after the publication date.

The ProView app is not currently available on Kindle. See the latest system requirements