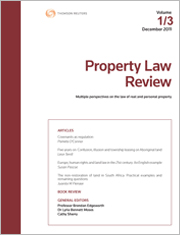 Property Law Review: Online
Online

Date: 22/02/2011

Code: 41182441

Thomson Reuters, AUSTRALIA

Enquiry Sent

A member of our support team will be in touch with you within 1 business day.

Sales Enquiry Form

Property Law Review: Online

For questions about how to use this product or to get help with your account please visit the Help Centre or Contact Support directly.
Description
Multiple perspectives on the law of real and personal property

Property Law Review is a peer-reviewed journal exploring important questions of real and personal property with national or international implications.

This high calibre journal publishes articles, notes, comments and reviews dealing with fundamental questions in property law, other than in relation to intellectual property. It welcomes multiple perspectives, ranging across analytical, theoretical, empirical and comparative approaches, analysis of recent developments, exploration of issues of policy and proposals for law reform. Regular section notes from a range of Australian and international contributors highlight practical application of property law principles.
The General Editor, Professor Paul Babie holds a Personal Chair of Law in the Adelaide Law School of The University of Adelaide, and is Associate Dean of Law (International) of the Adelaide Law School and Associate Dean (International) of the Faculty of the Professions. He was elected a Fellow of the Australian Academy of Law in 2017.
In addition to his role as General Editor and South Australia Editor of the Property Law Review (Thomson Reuters), Paul holds positions as an Editorial Board Member of the Journal of Law and Religion (Cambridge University Press), the Routledge Research Series in Law and Religion, the Springer Research Series in Law and Religion, and of the Forum on Religion & Ecology (FORE) @ Australia (affiliated with FORE, Yale University (USA). He teaches property law, property theory, law and religion, and Roman law.
Together with the Editorial Board of distinguished academics and practitioners from Australia and around the world, the Property Law Review offers a unique combination of intellectual rigour and commercial relevance to academics researching and teaching the law of property in its many and varied manifestations. It is also of value to commercial litigators and advisors involved in large-scale commercial transactions that can be caught up in litigation arising from the complexity of property law.
Online, Property Law Review features access to the growing backset from Volume 1, 2011, with links to judgments, legislation and other online publications, while allowing for individual articles to be downloaded in PDF format or received via RSS feed.

Approximately three parts publish each year, comprising one volume of the journal.
To access articles, or to submit an article and have your say, visit Journals Talk at http://sites.thomsonreuters.com.au/journals.
Resource Downloads
General Downloads