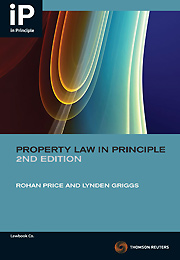 Property Law: In Principle 2nd Edition
Book

Date: 11/09/2008

Code: 9780455224978

Lawbook Co., AUSTRALIA

Property Law: In Principle 2nd Edition
Description
Property Law: In Principle, 2nd Edition has been thoroughly revised but retains the features that made the 1st edition so popular. Students will find this edition easy to relate to, with useful case summaries and succinct commentary on the history and context of principles of real and personal property. Chapters have been restructured, questions have been revised, and additional points for discussion have been included to ensure the text remains current and relevant.
This edition includes:
New commentary on sale by possessors of motor vehicles subject to a security interest in Chapter 2 (Title to Goods), including the High Court decision in General Motors Acceptance Corporation Australia v Southbank Traders Pty Ltd (2007);
Revision of Chapter 5 (Native Title), including analysis of new cases De Rose v State of South Australia (No 2) [2005]; Bennell v State of Western Australia (2006) (and subsequent High Court decision in Bodney v Bennell [2008]);
Revised commentary in Chapter 6 (The Torrens System) which raises questions as to whether the conservatism engendered by the decision in Farah Constructions Pty Ltd v Say-Dee Pty Ltd [2007] and other relevant High Court authorities is warranted;
A restructure of Chapter 8 (Dispositions) and addition of new Chapter 9 (Defeasible Transactions), incorporating content on the regulation of land sales and land title insurance;
A new section on the requirement of writing and analysis of the High Court decision in Theodore v Mistford Pty Ltd [2005] in Chapter 10 (Mortgages);
Complete revision of Chapter 11 (Leases), with new material on the difference between legal and equitable leases, types of leases, validity of leases and withholding consent to subletting; and
New case summaries added to Chapter 16 (Easements) eg Highmist v Tricare [2005]; Timpar Nominees Pty Ltd v Archer [2001] and Khattar v Wiese (2005).
CONTENTS
1 The nature of property
2 Title to goods
3 Title to land
4 Estates in land
5 Native title
6 The Torrens System: the principle of indefeasibility
7 Priorities
8 Dispositions
9 Defeasible transactions
10 Mortgages
11 Leases
12 Housing
13 Co-ownership
14 Future interests and perpetuities
15 Limits to property
16 Easements, covenants and rights of way
17 Property in intangibles