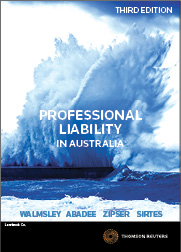 Professional Liability in Australia Third Edition - Hardcover Book & eBook
Book+eBook

Date: 25/11/2015

Code: 41894593

Lawbook Co., AUSTRALIA

Professional Liability in Australia Third Edition - Hardcover Book & eBook
Description
Professional Liability in Australia, Third Edition provides readers with a comprehensive and definitive analysis of the law of professional liability in Australia, bringing together the law for a range of different professions.
Following a discussion of general principles, each chapter explores the issues as they relate to doctors, solicitors, barristers, accountants and auditors, building professionals, valuers and financial services professionals.
The issues essential to each profession are discussed, such as:
duties owed to clients and third parties (in statute and in general law);
standard of care and skill required;
principles of liability;
liability for breach of duty;
defences available; and
damages and other remedies.
New developments incorporated in the Third Edition include:
a significantly increased number of superior court decisions concerning provisions of the civil liability Acts, relevant to professional liability claims;
the impact of proportionate liability schemes on professional liability claims;
the introduction of the Legal Profession Uniform Law;
the introduction of the Health Practitioner Regulation National Law;
the introduction of the Australian Consumer Law;
fresh coverage of all aspects of the liability of financial services professionals; and
recent decisions relating to the admissibility and use of expert opinion evidence applicable to claims against professionals.
Professional Liability in Australia, Third Edition is an essential resource when prosecuting or defending professional liability claims.
Table of Contents
General Principles
Doctors
Solicitors
Barristers
Accountants and Auditors
Building Professionals
Valuers
Financial Services Professionals
*
eBooks and packages including an eBook may not be returned once the software key has been supplied. Your rights as a customer to access and use the ProView™ software and a ProView eBook are subject to acceptance of the ProView content licence agreement.
NB
An email with a registration key and instructions for accessing your eBook will be sent after checkout. For existing ProView users the eBook will appear in your library after checkout.

Forthcoming/pre-order eBooks will be available after the publication date.

The ProView app is not currently available on Kindle. See the latest system requirements