WESTLAW
Designed for you, and
the way you work.
Schedule a demo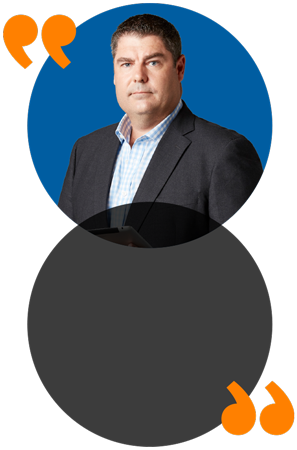 "Westlaw is always evolving, so in a sense my job is never done – but it's satisfying to be in a position to implement changes that people respond well to."
Online Development Manager
Westlaw
The beauty of being an established player is that it means we've had the time to build on our strengths. We've used the last four years as a chance to put our product to the test. We've spent countless hours talking to our customers to understand their online legal research needs and how they work.

Now, we're confident the Westlaw online legal research platform offers a user experience that's second to none. But that said, we don't plan to stop evolving and improving anytime soon.

Why Westlaw?
Why Westlaw?
Content you
can trust

Westlaw's content is written and edited by some of the most respected legal professionals in Australia. With sources this good, you can feel confident that you're getting up-to-date and accurate information to build a strong case for your clients.

Expert analysis and commentary

Westlaw offers more than just up-to-date legal information, we offer meaningful interpretation. We partner with leading legal experts to provide you with analysis and incisive commentary on legislative and case law developments.

Comprehensive and
fast search results

Whether you prefer to search using keywords or browse a table of contents, Westlaw makes it quick and simple. Our intuitive filters always take you to the information you're after and results are displayed on a single screen - eliminating unnecessary steps.

Personalisation and organisation tools

Tap into research across organisational boundaries like never before. Share research folders and documents with your colleagues, set up personalised alerts to stay up-to-date with new legal developments, retrieve past searches and more.

An entire support crew
based here in Australia

When you have Westlaw, you have an entire support crew within arm's reach whenever you need them. We offer a range of tailored training options as part and parcel of the service - from face to face training to webinars and videos.

An integrated suite of
essential business systems

Westlaw integrates with an entire suite of intelligent business tools - from practice management systems like Infinitylaw, to Softdocs document automation solutions, Practical Law Australia legal know-how resources and trusted secondary legal content on ProView.
... all of this and more with Westlaw.

See how it works
Hover over the list items or numbers on the iPad to take a quick tour of the Westlaw online legal research platform.
1

Status flags

2

FirstPoint

3

Judgment Text

4

Law reports

5

Cited and Related Documents tabs

6

Classifications

7

Annotations

8

Digest notes

9

FirstPoint Verified symbol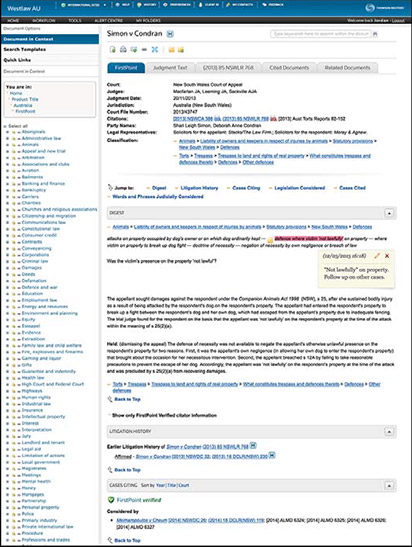 Status flags
Status flags inform you immediately if your case is good law.

FirstPoint
FirstPoint provides citator information and summaries of important cases. It offers easy subject based browsing across 19,000 points of law.

Judgment Text
The court-provided full-text judgment. Available on your browser screen or as a Word document download.

Law reports
FirstPoint
is integrated with authorised and specialist law reports — including the authorised reports of the High Court and Federal Court, and other Australian legal jurisdictions.

Cited and Related Documents tabs
Lists of cases cited and other documents that cite the current document.

Classifications
Classifications (powered by
The Australian Digest
) allow you to browse down through the detailed classification scheme and offer "More Like This" links to help you find other relevant cases on the same point of law.
Annotations
Highlight text and add document and inline notes as you research.

Digest notes
Summaries on the key points of law written by Australian legal editors.
FirstPoint Verified symbol
This symbol tells you when a reference has been checked and verified as important by the
FirstPoint
legal editorial team.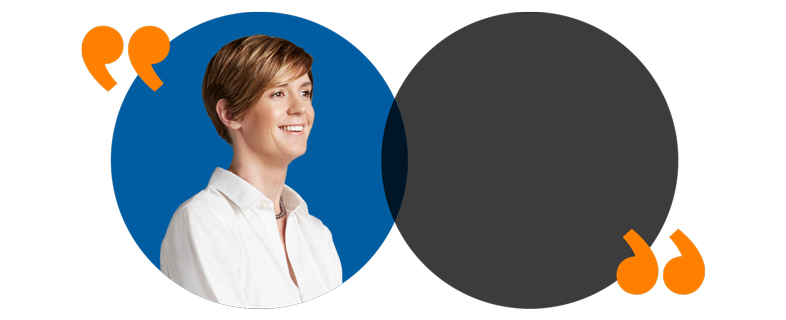 Information is easy to find – the interface is really clear and easy to use, and the content is indexed, which makes it easy to broaden or narrow topic searches to suit your purpose.
Rebecca Bollen Manalac
Knowledge and Research Vendor
and Subscriptions Manager
Herbert Smith Freehills