Launched on ProView:
Expert Evidence: 75 Expert Areas
"It was not law but science that told us that our earth was round. Calling on the best available science and experience - here in Expert Evidence - is necessary for just results in our courts and tribunals."
— Hugh Selby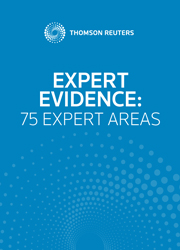 ---
Thomson Reuters is pleased to announce the launch of Expert Evidence: 75 Expert Areas on the award-winning ProView eReader platform.
Expert Evidence: 75 Expert Areas is comprehensively drafted to fully prepare the everyday litigator for their legal matter, ensuring for example that your pre-trial conferences run smoothly, the questions you put to your experts are the right questions, your time spent in hearings is productive and ultimately that your client feels they are getting the best advice possible.
Expert Evidence: 75 Expert Areas provides helpful guidance on expert opinions in accounting, digital evidence, document examination, valuations, medical and forensic areas, environment issues, transport and structural failures and more.
Plus, with the enhanced functionality of the ProView eReader Platform, you can add notes, highlight sections and add bookmarks to find the information you need faster.