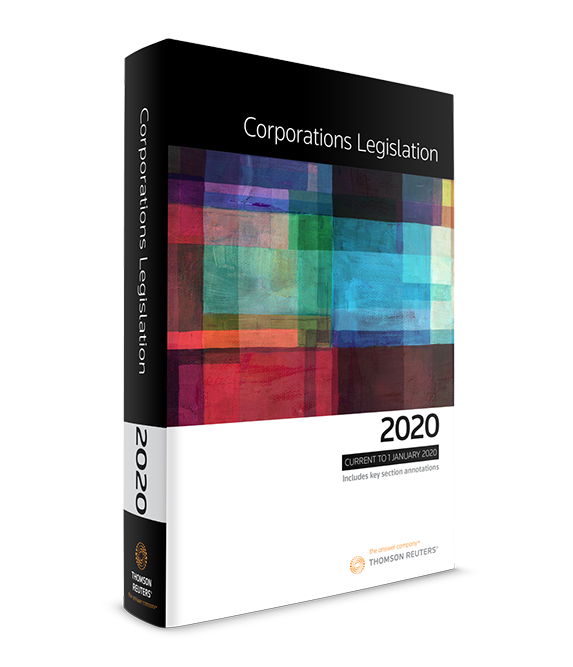 Corporations Legislation
2020
Thomson Reuters' Corporations Legislation has an outstanding reputation for accuracy, dependability and reliability.
This fully consolidated legislation book includes the Corporations Act 2001, Australian Securities and Investments Commission Act 2001 and associated Acts and related legislation capturing the latest amendments up to 1 January 2020.
Highlights
Designed for use by practitioners, business professionals and anyone with an interest in corporations Law, the Corporations Act 2001 is supplemented with key section annotations updated by Sydney barrister, Edmund Finnane. These section specific commentary notes provide additional guidance for the most important provisions. In addition, in the "Year in Review" feature, Jason Harris highlights significant corporations law developments since January 2019.
Key corporations developments during 2019 include:
The treatment of trust property when a corporate trustee enters receivership was considered in Carter Holt Harvey Woodproducts Australia Pty Ltd v Commonwealth (2019) 93 ALJR 807; [2019] HCA 20.
Connective Services Pty Ltd v Slea Pty Ltd (2019) 93 ALJR 1079; [2019] HCA 33 considered the scope of the financial assistance provision in s 260A.
Operation of continuous disclosure laws as well as directors' duties considered in ASIC v Vocation Ltd (in liq) [2019] FCA 807.
Treasury Laws Amendment (Strengthening Corporate and Financial Sector Penalties) Act 2019 (Cth). This Act reshapes the operation of civil and criminal penalties under the Corporations Act, including increasing maximum penalties, changing the way criminal penalties are calculated, introducing a new relinquishment order and extending civil penalty provisions.
Treasury Laws Amendment (Design and Distribution Obligations and Product Intervention Powers) Act 2019 (Cth). This Act introduces a new product intervention power for ASIC and imposes new obligations on the design and distribution of certain financial products.
Corporations Legislation 2020 contains the following legislation:
Corporations Act 2001
Corporations Regulations 2001 (except Sch 2 Forms)
Insolvency Practice Rules (Corporations) 2016
Australian Securities and Investments Commission Act 2001
Australian Securities and Investments Commission Regulations 2001
Corporations (Fees) Act 2001
Corporations (Fees) Regulations 2001
Cross-Border Insolvency Act 2008
Cross-Border Insolvency Regulations 2008
Acts Interpretation Act 1901 (as at 1 Jan 2005)
Features of the publication
Corporations Legislation 2020 offers an extensive range of features to assist practitioners and students working with the Corporations Act 2001 and related legislation.
Features include:
Key section authored annotations provide additional guidance on selected provisions.
Annual Review highlighting the major corporations developments in the preceding year.
History notes including the date of effect of the amending provision.
Navigation tools supports easy reading and fast access to legislation sections, with the use of thumb tabs, running heads and section references.
Side notes displayed in bold type inside square brackets to the right of a subsection number and clearly distinguished from the legislation and are designed to aid in the interpretation of the relevant subsections, where no subsection is contained within the actual text of the legislation.
Cross-references to regulations are included at provision level, indicating where a particular regulation affects a section of the Corporations Act 2001 (Cth).
Cross-references to related ASIC materials including ASIC Regulatory Guides, Class Orders and Forms are noted at section level.
Subject index