Thomson Reuter's ASIC suite of products is authorised and endorsed by ASIC and is the most comprehensive and reliable source of information for ASIC-regulated entities. As ASIC's official publisher, Thomson Reuters is uniquely placed to deliver extensive, up-to-date compliance information.
Our user-friendly resources provide you with:
Regularly updated content to keep you informed of ASIC obligations
Easy search and retrieval of ASIC documents
Reduction in research time with online links to the Corporations Act and related legislation and case law
Comprehensive archive containing superseded and historical versions of documents
ASIC Digest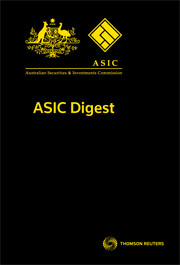 The
ASIC Digest
is a comprehensive resource which consolidates all the regulatory and guidance documents released by ASIC. The
ASIC Digest
covers the full range of activities, from financial services regulation to market integrity and carbon pricing regulation. It contains ASIC Regulatory Guides, Information Sheets, Reports, Consultation Papers, Class Orders, Pro Formas, Instruments and Registered Schemes. It is updated 12 times a year ensuring access to the latest and most accurate information.
ASIC Forms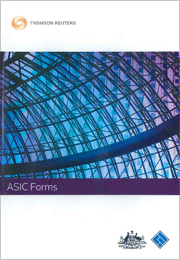 Thomson Reuter's
ASIC Forms
give you access to over 200 of ASIC's most commonly lodged Forms. All
Forms
are available on a desktop application and can be completed electronically and saved. Updates to the
Forms
are automatically integrated into the application, without causing the loss of customer-entered data.
ASIC Handbooks
Complete compliance guides for financial services and investment professionals.

ASIC Working Guides
Focus on compliance tasks that are relevant to you and your clients.

ASIC Policy Alerts
Email alerts delivered to you within 24 hours of ASIC releasing a relevant policy document.

Related Services
Got a promo code?
Don't know the Promo Code?
Click here to obtain one.
Bestsellers