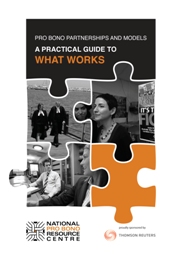 Pro Bono Partnerships and Models: A Practical Guide to What Works - PDF
PDF

Date: 14/05/2013

Code: 9780455231976

Lawbook Co., AUSTRALIA

Enquiry Sent

A member of our support team will be in touch with you within 1 business day.

Sales Enquiry Form

Pro Bono Partnerships and Models: A Practical Guide to What Works - PDF

For questions about how to use this product or to get help with your account please visit the Help Centre or Contact Support directly.
Description
Pro Bono Partnerships and Models: A Practical Guide to What Works is a resource that provides practical information on what works well in collaborative pro bono projects. Click here to access the free PDF.

What Works was created by the National Pro Bono Resource Centre and is also available free of charge as an easily navigable e-book using Thomson Reuters' ProView e-book platform.
Drawing on the expertise of a broad range of stakeholders with experience in the delivery of pro bono legal assistance, this resource will be useful for those providing pro bono legal services (including law firms of all sizes, pro bono clearinghouses and referral schemes, barristers, in-house and government lawyers, and law schools), and those seeking pro bono assistance (including community legal centres and other not-for-profit organisations). It provides tips on how to attract pro bono partners and maintain effective partnerships.

What Works will also be of interest to everyone in the legal assistance sector, given the increasing complexity and sophistication of the delivery of pro bono legal services in Australia. It identifies the features of effective models used to deliver pro bono legal assistance, and includes illustrative case studies. The included models are:
Case referral
Clinics
Outreach
Secondments
Fellowships
Co-counselling
"Secondary consults" or "phone a friend" assistance
Telephone, video conferencing, online and mobile technology
Law reform
Assistance to non-legal not-for-profit organisations and charities
Community legal education
Non-legal assistance
International pro bono
Table of Contents
PART 1. WHO WILL FIND THIS RESOURCE USEFUL?
1 WHAT IS IN THIS RESOURCE?
2 WHO WILL FIND THIS RESOURCE USEFUL?
2.1 I am in the early stages of developing a pro bono practice (or growing an existing practice)
2.2 I am a small law firm or a sole practitioner
2.3 I am a community legal centre or a Not-for-Profit organisation
2.4 I am an in-house/corporate lawyer
2.5 I am a government lawyer
2.6 I am an individual lawyer or barrister looking for opportunities to get involved
2.7 I am interested in pro bono in regional, rural and remote (RRR) areas
PART 2. THEMES ARISING FROM CONSULTATIONS
3 IMPORTANCE OF RELATIONSHIPS AND COMMUNICATION
4 IMPORTANCE OF DEVELOPING A STRONG PRO BONO CULTURE
5 WHERE PRO BONO RESOURCES SHOULD BE DIRECTED: GREATEST NEED VS ACHIEVABLE GOALS
6 SIZE MATTERS
6.1 Size of jurisdiction
6.2 Distance from big cities
6.3 Size of law firm (or office)
7 INNOVATION
PART 3. TOOLKIT
8 TIPS FOR PLANNING AND MAINTAINING RELATIONSHIPS
8.1 Planning at the beginning
8.2 Maintaining the relationship
PART 3A. UNDERSTANDING YOUR POTENTIAL PARTNER
9 PRO BONO CLEARING HOUSES AND REFERRAL SCHEMES
10 LARGE LAW FIRMS
10.1 Large law firms: at a glance
11 SMALL FIRMS
11.1 Small firm pro bono: at a glance
12 COMMUNITY LEGAL CENTRES
12.1 Community legal centres: at a glance
13 NON-LEGAL NOT-FOR-PROFIT ORGANISATIONS AND CHARITIES
13.1 Not-for-profit organisations: at a glance
14 BARRISTERS
14.1 Working with barristers: at a glance
15 IN-HOUSE/CORPORATE LAWYERS
15.1 In-house/corporate pro bono: at a glance
15.2 Case studies
15.2.1 Case study: Telstra, King & Wood Mallesons and the National Children's and Youth Law Centre.
15.2.2 Case study: IBM Australia/New Zealand and Ashurst
16 GOVERNMENT LAWYERS
17 INDIVIDUAL VOLUNTEERS
18 LAW STUDENTS
18.1 Students: at a glance
18.2 Case studies
18.2.1 Case Study: The Roster and the Manning Street Project (UQ Pro Bono Centre)
18.2.2 Case Study: The Tasmanian Mental Health Tribunal Representation Scheme (Advocacy Tasmania Incorporated)
PART 3B. MODELS OF PRO BONO LEGAL ASSISTANCE
19 CASE REFERRAL
19.1 Case referral: at a glance
19.2 Case referral: benefits
19.3 Case referral: challenges/limitations
19.4 Features of effective case referral
19.5 Case studies
19.5.1 Case study: Case Referral (Lander & Rogers)
19.5.2 Case study: Document Review Service and Advice Service (Arts Law Centre of Australia)
19.5.3 Case study: Medical Legal Partnership in a Rural Context (Bendigo Health Outreach)
19.6 Case referral through Pro Bono Referral Schemes and Clearing Houses
20 CLINICS
20.1 Clinics: at a glance
20.2 Clinics: benefits
20.3 Clinics: challenges/limitations
20.4 Features of effective clinics
20.5 Case studies
20.5.1 Case study: Self Representation Service (QPILCH)
21 OUTREACH
21.1 Outreach: at a glance
21.2 Outreach: benefits
21.3 Outreach: challenges/limitations
21.4 Features of effective outreach
21.5 Case studies
21.5.1 Case study: Claymore Outreach Clinic (Macarthur Legal Centre and Minter Ellison)
21.5.2 Case study: Homeless Persons Legal Service Clinics (Public Interest Advocacy Centre)
21.5.3 Case study: Housing Legal Clinic, Homeless Persons' Pro Bono Legal Service, Welfare Rights Centre South Australia
22 SECONDMENTS
22.1 Secondments: at a glance
22.2 Secondments: benefits
22.3 Secondments: challenges/limitations
22.4 Features of effective secondments
22.5 Case studies
22.5.1 Case Study: Full-Time/Long-Term (North Australian Aboriginal Justice Agency and Ashurst). 11
22.5.2 Case study: Full-Time/Long-Term (Kingsford Legal Centre And Herbert Smith Freehills)
22.5.3 Case study: Sessional Secondments – Unfair Dismissal Project (Redfern Legal Centre and Clayton Utz)
22.5.4 Case study: Sessional Secondments (Street Law, Australian Government Solicitor and Clayton Utz)
22.5.5 Case study: Sessional Secondments (the Aged-Care Rights Service and Sparke Helmore)
23 FELLOWSHIPS
23.1 Fellowships: at a glance