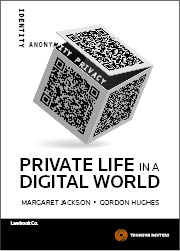 Private Life in a Digital World - Book
Book

Date: 18/06/2015

Code: 9780455233260

Thomson Reuters, AUSTRALIA

Private Life in a Digital World - Book
Description
Private Life in a Digital World analyses the key challenges facing individuals and entities operating in the digital context - protecting information, maintaining privacy and, conversely, the critical need to verify identity online.
Identity, anonymity and privacy issues are now key factors in our daily interactions. Internet usage has resulted in individuals 'sharing' their personal information without understanding how this information is being used, nor by whom.
Governments, corporations and individuals are collecting and handling this information, creating 'big data', while using systems which do not cope with the size of the data sets nor the privacy issues that arise.
Internet law and privacy lawyers, Margaret Jackson and Gordon Hughes, consider the legal responses in Australia and internationally to the data challenges now faced by businesses, government and individuals. Other matters treated by them include:
Concept of identity in the digital context;

How online identity can be verified and attempts by governments to do so;

Legal consequences of identity theft;

Right to be anonymous and the proliferation of e-government services;

Whether anonymity is possible in a world of 'big data';

Role of the media in reporting personal information;

Rights of, and attitudes to, the privacy of individuals and entities;

Relevance of data protection principles in a context where personal information is 'shared' online, rather than 'collected' or 'disclosed'; and

Recent amendments to the

Privacy Act 1988

and the impact of the Australian Privacy Principles on cross-border transfers and government agencies.
Practical materials in the form of case studies, checklists and compliance programs are provided to help firms, businesses and other entities to determine a suitable approach to the handling, management and storage of data.
Privacy lawyers, in-house counsel, students, IT managers, and anyone with an interest in online privacy, will find this work to be a much-needed and valued resource.