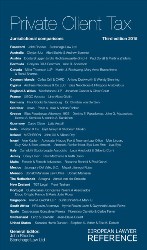 Private Client Tax - Jurisdiction Comparison 3rd edition
Book

Date: 16/04/2015

Code: 9780414039483

Sweet & Maxwell, UNITED KINGDOM

Private Client Tax - Jurisdiction Comparison 3rd edition
Description
As governments chop and change legislation on tax and wealth planning issues, legal advisers need instant access to the latest information on a country-by-country basis.
The impact on private clients of governments' ability to collect and disseminate vast amounts of computerised information, and their increasing willingness to co-operate in so doing, cannot be underestimated.
In such a climate, clients increasingly need to know firstly, where they should reside and, secondly, where their family assets should be held and administered. This publication is essential reading for advisers of wealthy families around the world.
Private Client Tax – Jurisdictional Comparisons is the essential reference guide for anyone concerned with cross border trust, estate and succession planning for wealthy international families.
This includes not only family members themselves, but Private Banks, Family Offices and professionals serving this sector as accountants, tax advisers, lawyers, art and property advisors etc.
Covering over 28 major jurisdictions worldwide this title offers you insight into the basic legal framework in each jurisdiction with commentary on topics on which anyone considering taking up residence in a new jurisdiction needs to focus
Includes contributions from leading local practitioners who are experts in these fields with key planning points
Provides a ready directory of who to consult in the stated jurisdictions.
Reader-friendly Q & A format allows for easy cross-jurisdictional comparisons