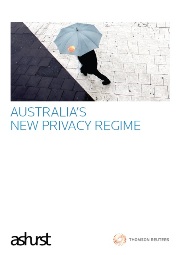 Privacy Law Update 2014 by Thomson Reuters and Ashurst
PDF

Date: 01/01/2014

Code: 41611477

Thomson Reuters, AUSTRALIA

Privacy Law Update 2014 by Thomson Reuters and Ashurst
Description
Privacy Law Update 2014 – Australia's New Privacy Regime
Significant reforms to the Privacy Act 1988 (the Privacy Act) came into effect on 12 March 2014. The Privacy Act regulates the activities of both the private sector and the Commonwealth public sector in Australia.
Ashurst and Thomson Reuters have partnered together to provide expert commentary on the requirements under the new law, highlight the major differences between the new and old privacy regimes, and offer practical steps for entities to consider as part of the transition from the old regime to the new.
The Privacy Law Update 2014 – Australia's New Privacy Regime is the essential guide for Australian Government agencies and businesses which will all be affected by the significant changes.
The publication is divided into seven parts:
• Part A – Overview of Australia's new privacy regime
• Part B – Full text of the Australian Privacy Principles
• Part C – The reform process
• Part D – How the privacy principles have changed
• Part E – Other relevant Commonwealth laws
• Part F – State and Territory privacy laws
• Part G – Practical steps
Authors
Gordon Hughes (partner)
A partner in the intellectual property, competition and technology group in the Melbourne office. Gordon practises in the area of information technology law, data protection law, electronic commerce, privacy and intellectual property rights.
Tim Brookes (partner)
A partner in the Sydney office and practice leader of the Australian technology, media and telecommunications group. Tim is one of Australia's leading telecommunications and information technology lawyers. He specialises in telecommunications, information technology and privacy.
Marlia Saunders (senior associate)
A senior associate in the intellectual property competition and technology group based in the Sydney office. Marlia's principal areas of practice are media law (including defamation, sponsorship, production and content licensing), intellectual property law and privacy law.

*
By downloading this PDF file you agree to the following: 1. That the file is for your sole use and purpose; 2. You may print this file but only if it is for your personal use; 3. You will not share or make copies of the PDF file (in any format) and will not permit the file to be published or distributed in any other way which is contrary to personal use. You should note that this material is copyright protected and may only be used as noted above. Please contact us if you seek additional permission to reproduce this content or would like any further information.