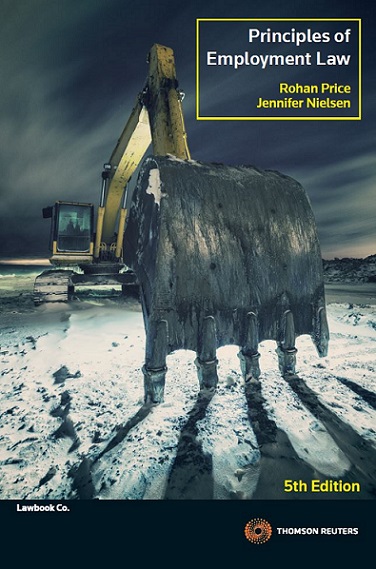 Principles of Employment Law 5e book+eBook
Book+eBook

Date: 15/08/2018

Code: 42018391

Lawbook Co., AUSTRALIA

Principles of Employment Law 5e book+eBook
Description
Principles of Employment Law, 5th Edition opens the world of work regulation to students and practitioners by offering astute explanations of key topics. Traversing issues such as identification employment relationships, the position of contractors and casual employees, duties of employment, enterprise agreements and awards, unfair dismissal and discrimination, the latest edition is the last word on work and law.

This edition adds to analysis of key statutory regimes fresh insights on workplace safety, the current approach to unfair dismissal, the provisions on adverse action, and bullying. New coverage also includes employee mental health disclosure and obligations in their use of social media outside of work.

One of the leading texts in the field, Principles of Employment Law is a seasoned, up-to-date and timely exposition of the rules of work and their contexts in policy and politics.
Table of Contents
PART I INTRODUCING EMPLOYMENT
1. Employment in History
2. Fairness in Deciding the Terms of Employment
3. Vicarious Liability and Tests of Employment
4. Contractors and Casual Employees
5. Workplace Safety
PART II THE CONTRACT OF EMPLOYMENT
6. Contracts of Employment: Elements and Claims
7. Terms of Employment Contracts
8. Duties of Employees
9. Fidelity, Trust and Confidence
10. Duties of Employers
PART III STATUTORY EMPLOYMENT STANDARDS
11. Standards and Modern Awards
12. Federal Enterprise Agreements
13. Notice and Termination Issues
14. Protecting Employment: Unfair and Unlawful Dismissal
15. International Standards
PART IV PARTIES
16. Discrimination in the Workplace
17. Grounds of Discrimination and Liability
*
eBooks and packages including an eBook may not be returned once the software key has been supplied. Your rights as a customer to access and use the ProView™ software and a ProView eBook are subject to acceptance of the ProView content licence agreement.
NB
An email with a registration key and instructions for accessing your eBook will be sent after checkout. For existing ProView users the eBook will appear in your library after checkout.

Forthcoming/pre-order eBooks will be available after the publication date.

The ProView app is not currently available on Kindle. See the latest system requirements