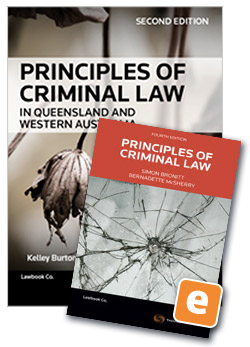 Principles of Criminal Law in Queensland and Western Australia 2nd Edition Book + Principles of Criminal Law 4th edition eBook (Value Bundle)
Book+eBook

$61.20* $153.00* RRP Save: $91.80 (60%)

Date: 22/12/2015

Code: 42545222

Lawbook Co., AUSTRALIA

Principles of Criminal Law in Queensland and Western Australia 2nd Edition Book + Principles of Criminal Law 4th edition eBook (Value Bundle)

Sale Price:

$61.20

Saving: $91.80
Description
This Value Pack bundle contains the print book version of Principles of Criminal Law in Queensland and Western Australia 2nd edition and the eBook version of Principles of Criminal Law 4th edition.
Principles of Criminal Law in Queensland and Western Australia 2nd edition
Principles of Criminal Law in Queensland and Western Australia, 2nd Edition is a student-focused, approachable textbook designed as a complete course companion for all stages and levels of study. The inclusion of summaries, revision questions and problem questions make it highly useful for students approaching the subject for the first time, or for more advanced students preparing for exams.
Updates and developments in the new edition include the following:
· discussion of a new offence in Queensland, unlawful striking causing death (s 314A, Criminal Code (Qld));
· development of the provocation defence for murder as a defence pursuant to s 304(7) (Criminal Code (Qld)). An accused person must prove provocation for murder on the balance of probabilities and the prosecution must negative it beyond reasonable doubt: Strong v Woolworths Ltd;
· new commentary on "Anti-bikie" legislation in Queensland (Vicious Lawless Association Disestablishment Act 2013 (Qld)), which came into effect in 2013. The Act provides mandatory sentences for people who commit serious offences as part of their participation in a gang;
· new case law which holds that it is the role of the judge and not the prosecutor to determine the appropriate sentence and range of sentences: Barbaro v The Queen; Zi-rilli v The Queen;
· discussion of major developments in the offence of fraud in Queensland: R v Dillon; Ex parte Attorney-General (Qld); and
· new commentary on attempt liability in Western Australia: Weggers v WA. Until 2014 the Western Australian Court of Appeal had almost settled on a test for determining when conduct was an attempt to commit an offence and not "merely preparatory". After Weggers, the Court of Appeal abandoned the quest for a general test in this complex area and reverted to a 'case by case' approach - requiring even closer scrutiny of the facts and circumstances of each case.
Principles of Criminal Law in Queensland and Western Australia, 2nd Edition is an essential tool for those wishing to learn the principles of criminal law in the Code States of Queensland and Western Australia.
...................................................
Principles of Criminal Law 4th edition eBook
Principles of Criminal Law 4th edition, explores the criminal law of every Australian jurisdiction and seeks to place it into the wider context of Australian society. It examines the principles of the law in detail, providing a thought-provoking and engaging experience for the reader by analysing and challenging these principles from interdisciplinary perspectives, such as sociology, psychology, criminology, and legal theory.
This fourth edition is updated in all areas and contains topical sections on the expanding boundaries of federal law as well as the development of "cybercrimes". Other areas that have been significantly updated include:
· defences to homicide;
· extended common purpose and acting in concert doctrines;
· sexual offences;
· offences and defences relating to family violence; and
· conspiracy to commit money laundering offences.
This edition maintains a strong focus on the importance of reform, particularly in the light of human rights. It outlines key academic and policy debates, as well as providing comparative insights on the direction of criminal law from related jurisdictions.
Principles of Criminal Law 4th edition, is a valuable resource for students of criminal law, advanced criminal law, criminology and criminal justice. Judges, scholars and practitioners seeking a criminal law text with great depth of analysis combined with insight into the future development of the law will also find it of value.
Table of Contents
1. Introduction
2. Procedure
3. Double jeopardy and double punishment
4. Fatal offences
5. Non-fatal offences
6. Sexual offences
7. Property offences
8. Drug offences
9. Provocation, diminished responsibility, extraordinary emergency and duress
10. Self-defence
11. Acts independent of will and accident
12. Insanity, intoxication and immaturity
13. Honest claim of right to property and mistake of fact
14. Attempts
15. Conspiracies and parties
16. Sentencing
*
eBooks and packages including an eBook may not be returned once the software key has been supplied. Your rights as a customer to access and use the ProView™ software and a ProView eBook are subject to acceptance of the ProView content licence agreement.
NB
An email with a registration key and instructions for accessing your eBook will be sent after checkout. For existing ProView users the eBook will appear in your library after checkout.

Forthcoming/pre-order eBooks will be available after the publication date.

The ProView app is not currently available on Kindle. See the latest system requirements