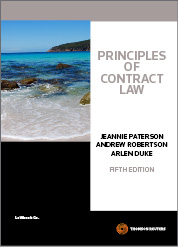 Principles of Contract Law 5th edition
Book

Date: 18/12/2015

Code: 9780455236001

Lawbook Co., AUSTRALIA

Principles of Contract Law 5th edition
Description
Principles of Contract Law, 5th Edition remains Australia's premier text for students of contract law. The new edition has been significantly revised in light of recent developments, including the following.
clarification and confirmation of the new approach to presumptions in relation to the intention to create legal relations requirement: Ashton v Pratt; and Evans v Secretary, Department of Families, Housing, Community Services and Indigenous Affairs;
growing divisions about the nature and scope of application of promissory estoppel: DHJPM Pty Ltd v Blackthorn Resources Ltd;
developments in the law of restitution, including the role of unjust enrichment as well as the change of position and illegality defences to restitutionary claims: Australian Financial Services and Leasing Pty Ltd v Hills Industries;
recent High Court approaches to construction and implication of terms: Electricity Generation Corporation v Woodside Energy Ltd;
developments in principles applying to termination for non-fulfilment of a contingent condition: Principal Properties Pty Ltd v Brisbane Broncos Leagues Club Ltd;
discussion of the scope of the penalty doctrine: Paciocco v Australia and New Zealand Banking Group Ltd;
discussion of recent case law applying the prohibition against misleading or deceptive conduct, including: Madden v Seafolly Pty Ltd and Australian Competition and Consumer Commission v TPG Internet Pty Ltd;
important new case law on both unconscionable dealing in equity and under statute: Kakavas v Crown Melbourne Ltd; and
discussion of recent illegality cases: McHugh v Australian Jockey Club Ltd.
Table of Contents
Part I Introduction
Chapter 1: The Nature Of Contract
Chapter 2: The Place Of Contract Within Private Law
Part II Formation
Chapter 3: Agreement
Chapter 4: Consideration
Chapter 5: Intention
Chapter 6: Certainty
Chapter 7: Formalities
Chapter 8: Capacity
Part III Detrimental Reliance And Unjust Enrichment
Chapter 9: Estoppel
Chapter 10: Restitution
Part IV Parties
Chapter 11: Privity
Part V Express Terms
Chapter 12: Identifying The Express Terms (including extrinsic evidence)
Chapter 13: Construing The Terms (including extrinsic evidence)
Part VI Gap Filling
Chapter 14: Implied Terms (including the duty of good faith)
Chapter 15: Frustration
Part VII Consumer Contracts under the Australian Consumer Law
Chapter 16: Consumer Guarantees
Chapter 17: Unfair Contract Terms
Part VIII Performance And Breach
Chapter 18: Performance And Breach
Part IX Termination
Chapter 19: Termination By Agreement
Chapter 20: Failure Of A Contingent Condition
Chapter 21: Termination For Breach
Chapter 22: Termination For Repudiation
Chapter 23: Termination For Delay
Chapter 24: Consequences Of Affirmation Or Termination
Chapter 25: Restrictions
Part X Remedies For Breach
Chapter 26: The Measure Of Damages
Chapter 27: Limitations On The Award Of Damages
Chapter 28: Liquidated Damages And Penalties
Chapter 29: Actions For Debt
Chapter 30: Specific Performance And Injunctions
Part XI Vitiating Factors
A Misinformation
Chapter 31: Mistake
Chapter 32: Misrepresentation
Chapter 33: Misleading And Deceptive Conduct
B Abuse Of Power
Chapter 34: Duress
Chapter 35: Undue Influence
Chapter 36: Unconscionable Dealing
Chapter 37: Impropriety By Third Parties
Chapter 38: Unconscionable Conduct under Statute
C Remedies
Chapter 39: Rescission
D Illegality
Chapter 40 Contracts Prohibited By Statute
Chapter 41 Contracts Prohibited At Common Law
Chapter 42 The Consequences Of Illegality