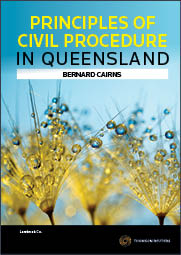 Principles of Civil Procedure in Queensland Book + eBook
Book+eBook

$78.80* $197.00* RRP Save: $118.20 (60%)

Date: 15/03/2015

Code: 41540446

Thomson Reuters, AUSTRALIA

Principles of Civil Procedure in Queensland Book + eBook

Sale Price:

$78.80

Saving: $118.20
Description
The fundamentals of all Australian civil jurisdictions are substantially the same, but each jurisdiction is still unique and has its own particular characteristics.
This new book by the well-regarded author of Australian Civil Procedure (now in its tenth edition) puts the fundamentals of the civil litigation system into a Queensland context.
Principles of Civil Procedure in Queensland is intended for students studying civil procedure or civil litigation. All topics prescribed for Civil Procedure for admission as a legal practitioner in Queensland are included in this book. Those topics discuss:
the nature, sources and function of procedural law, including overriding objective justice and efficiencies;
the structure of the Queensland civil court system and the civil jurisdiction of the Supreme Court, the District Court, the Magistrates Courts and the Queensland Civil and Administrative Tribunal;
the process for commencing proceedings, including limitation periods, joining multiple plaintiffs and defendants, and selecting proper form of originating process;
how to serve originating process, including outside of Australia;
the Notice of Intention to Defend, effect of unconditional notice of intention to defend, challenging ineffective service and challenging jurisdiction where originating process is served outside Australia;
pleadings (functions and rules), including admissions, non-admissions and denials, particulars of pleadings and striking out pleadings; amending court processes and pleadings;
the disclosure of documents; interrogatories; objections to disclosing documents or answering interrogatories; non-party disclosure of documents;
settlement, alternative dispute resolution, pre-court settlement procedures, offer to settle, contractual offers of settlement, compromise of action, consent judgment; default judgment;
summary judgment; dismissal for want of prosecution; evidence, cases in special lists, subpoenas, experts and expert evidence; trial; costs, solicitor and client costs, party and party costs, misconduct of litigation, security for costs; appeals and new trials; enforcing judgments.
Table of Contents
Chapter 1 The Civil Litigation System
Chapter 2 Queensland Court and Tribunal System
Chapter 3 Commencing Proceedings
Chapter 4 Service
Chapter 5 Notice of Intention to Defend
Chapter 6 Pleading
Chapter 7 Amendment
Chapter 8 Disclosure
Chapter 9 Settlement
Chapter 10 Summary Disposal and Discontinuance of Litigation
Chapter 11 Evidence
Chapter 12 Trial
Chapter 13 Costs
Chapter 14 Appeals and New Trials
Chapter 15 Enforcing Judgments
*
eBooks and packages including an eBook may not be returned once the software key has been supplied. Your rights as a customer to access and use the ProView™ software and a ProView eBook are subject to acceptance of the ProView content licence agreement.
NB
An email with a registration key and instructions for accessing your eBook will be sent after checkout. For existing ProView users the eBook will appear in your library after checkout.

Forthcoming/pre-order eBooks will be available after the publication date.

The ProView app is not currently available on Kindle. See the latest system requirements