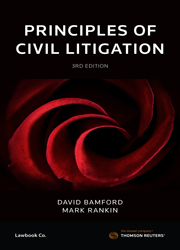 Principles of Civil Litigation 3e bk
Book

Date: 01/09/2017

Code: 9780455239071

Lawbook Co., AUSTRALIA

Principles of Civil Litigation 3e bk
Description
The last 25 years have witnessed major changes in civil procedure in Australia. Some changes, such as case management, have been revolutionary, resulting in a fundamental shift in the way in which the civil justice system works. Other changes have focused on improving the efficacy of the various procedural tools available to parties in the litigation process.
This edition has been updated to include significant developments the previous edition along with completely new chapters on trials. It serves a growing interest in the workings of the civil justice system by providing a better understanding of how civil litigation works today. It helps better understand the functions of procedural tools and it suggests possible directions for the future.
Table of Contents
1. The Civil Justice System
2. Commencing Proceedings: Jurisdiction and Parties
3. Commencing Proceedings: The Practicalities
4. How Courts Manage Cases and Make Procedural Decisions
5. Defining the Issues
6. Pre-trial Termination of Proceedings
7. Protecting Positions until Trial
8. Gathering Information
9. Court Annexed Alternative Dispute Resolution
10. Calderbank Letters and Formal Offers to Settle
11. Trials
12.Litigation Costs
13. Appeals
14. Enforcement of Judgments
*
eBooks and packages including an eBook may not be returned once the software key has been supplied. Your rights as a customer to access and use the ProView™ software and a ProView eBook are subject to acceptance of the ProView content licence agreement.
NB
An email with a registration key and instructions for accessing your eBook will be sent after checkout. For existing ProView users the eBook will appear in your library after checkout.

Forthcoming/pre-order eBooks will be available after the publication date.

The ProView app is not currently available on Kindle. See the latest system requirements