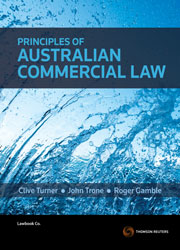 Principles of Australian Commercial Law - Book & eBook
Book+eBook

Date: 30/10/2016

Code: 41983698

Lawbook Co., AUSTRALIA

Principles of Australian Commercial Law - Book & eBook
Description
In Principles of Australian Commercial Law there is a recognition that business students (and others who may be taking business or commercial law as an elective) are not going to be lawyers and they do not need to be trained to "think like lawyers". A different knowledge and skill set is required of them: these students should be "law-literate" in the sense that they should be able to identify potential legal problems as they arise, provide advice regarding risk and compliance but also know when to "call in the lawyers". With these objectives in mind, it has been the intention to write a book that covers the usual topics – introduction to law and the legal system, contract law, consumer protection, torts, business relationships and legal risk – but in an uncluttered "principles-based" way that is accessible, engaging and challenging. Although essentially a principles-based text, there are summaries of key cases and other aides to learning such as diagrams and flow charts.
To ensure the text is a more complete teaching and learning package, there are tutorial activities at the end of each chapter that have been written with the non-law student in mind so that they can be genuinely used to determine whether the learning outcomes have been met. There is also a guide on how to approach the study of business or commercial law, including advice on tackling the most common assessment tasks, with particular reference to problem questions (where there are several "worked examples"), research topics and multiple-choice questions. Additional resources – slides, multiple choice and problem-based questions – are available to lecturers.
Table of Contents
PART 1: FOUNDATIONS OF BUSINESS LAW
Ch 1: An Introduction to Law and the Australian Legal System
PART 2: CONTRACT LAW
Ch 2: Introduction and Contractual Formation
Ch 3: Intention, Consideration, Formalities and Capacity
Ch 4: Consent
Ch 5: Contents and Interpretation
Ch 6: Termination and Remedies
PART 3: CONSUMER LAW
Ch 7: Consumer Law
PART 4: LAW OF TORT
Ch 8: Negligent Misconduct in Business
PART 5: FORMS OF BUSINESS ORGANISATIONS
Introduction to Business Organisations
Ch 9: Agency
Ch 10: Partnerships
Ch 11: Company Law
PART 6: BUSINESS RISKS AND RESPONSIBILITIES
Ch 12: Legal Risks and Ethical Responsibilities in a Commercial World
Resource Downloads
Instructor Supplements
Please note: these resources are ONLY for the use of lecturers who have prescribed the relevant text. Please email tlrap.academic@thomson.com to request access.
*
eBooks and packages including an eBook may not be returned once the software key has been supplied. Your rights as a customer to access and use the ProView™ software and a ProView eBook are subject to acceptance of the ProView content licence agreement.
NB
An email with a registration key and instructions for accessing your eBook will be sent after checkout. For existing ProView users the eBook will appear in your library after checkout.

Forthcoming/pre-order eBooks will be available after the publication date.

The ProView app is not currently available on Kindle. See the latest system requirements