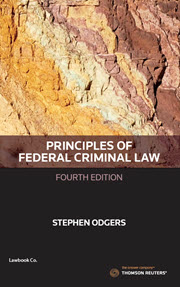 Principles Federal Criminal Law Fourth Edition - eBook
eBook - ProView

Date: 21/01/2019

Code: 9780455501192

Lawbook Co., AUSTRALIA

Principles Federal Criminal Law Fourth Edition - eBook
Description
Principles of Federal Criminal Law Fourth Edition is a comprehensive examination of the general principles of federal criminal law outlined in Chapter 2 of the Commonwealth Criminal Code.
Stephen Odgers SC provides commentary on specific terms and phrases used in Chapter 2 as well as examples of how each principle may be applied.
As both the significance of the Code and number of offences under it continue to increase, practitioners must contend with its principles and language. This title guides the reader through the principles and makes them accessible both to criminal lawyers dealing with a widening range of criminal offences, and to commercial lawyers who must grapple with criminal penalties for commercial crime.
Matters addressed in the Fourth Edition include the following:
the nature of "intention" under the Code and inferring intention from awareness of risk (s 5.2) in Smith v The Queen (2017);
the defence of mental impairment under the Code (s 7.3) in Hoyle v The Queen (2018);
triggering a temporary mental disorder or disturbance by external factors such as alcohol or drug intoxication (s 7.3 and s 8.2) in R v Pahl (2017);
honest and reasonable mistake of fact (s 9.2) inSingh v The Queen (2016);
"claim of right" in respect of property offences (s 9.5) in Director of Public Prosecutions v Booth (2018);
is there an offence of incitement to procure an offence under the Code? (s 11.4) in R v Holliday (2017);
conspiracy to commit a Commonwealth offence (s 11.5) in Walters v The Queen (2018), Romolo v The Queen (2018), Le v The Queen (2016);
can spouses conspire under the Code? In R v Bayda; R v Namoa (No 3) (2018);
proof beyond reasonable doubt (s 13.2) in R v Dookheea (2017); and
the evidential burden (s 13.3) in Mirzazadeh v The Queen (2016).
Principles of Federal Criminal Law Fourth Edition is a unique work offering essential guidance. This is provided in definitive form by one of Australia's most distinguished lawyers, making this a must-have resource for practitioners in both criminal and commercial law, public lawyers, the courts, the police and academics.
*
eBooks and packages including an eBook may not be returned once the software key has been supplied. Your rights as a customer to access and use the ProViewâ"¢ software and a ProView eBook are subject to acceptance of the ProView content licence agreement.
NB
An email with a registration key and instructions for accessing your eBook will be sent after checkout. For existing ProView users the eBook will appear in your library after checkout.

Forthcoming/pre-order eBooks will be available after the publication date.

The ProView app is not currently available on Kindle. See the latest system requirements